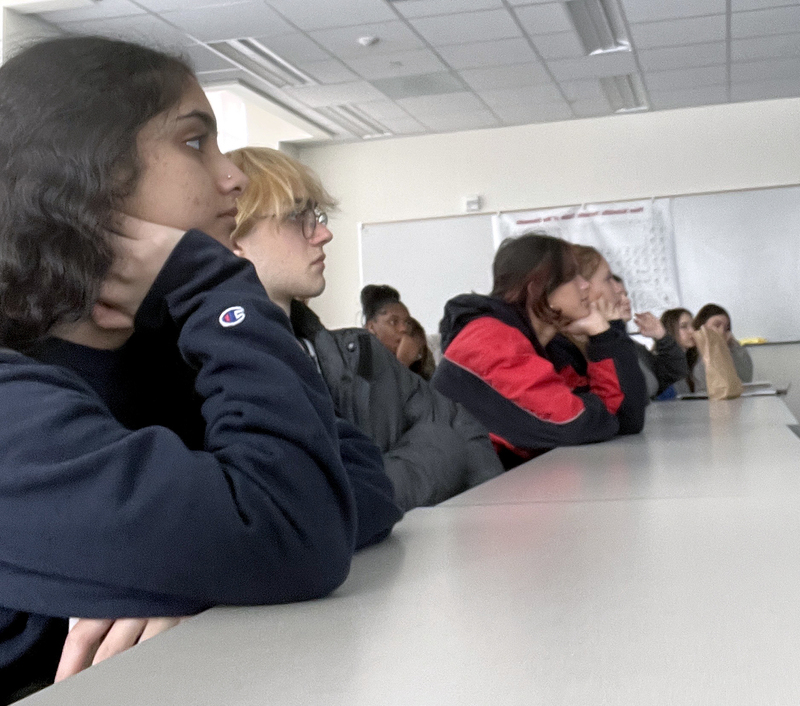 Students from the PHS newsmagazine and yearbook staffs listen to a presentation at the annual Indiana High School Press Association convention at Franklin College on January 27. Photo by Sri Nattam

---
PHS YEARBOOK TAKES HOME TOP HONOR AT STATE CONVENTION
The Hoosier Star Award, the most prestigious award that a high school publication can win in the state of Indiana, is what the PHS Silhouettes yearbook staff was awarded with on January 27 at the Indiana High School Press Association (IHSPA) conference. The award is based on the previous year's yearbook's content, including photography, design and writing. "It's a chance for the students who work hard all year on the yearbook to get recognition for their outstanding efforts," said Michelle Burress, yearbook advisor and IHSPA president.
The judges who decide the winners of the Hoosier Star Award look for a number of different qualities in a yearbook. Above all, however, the coverage of a yearbook is closely scrutinized. Coverage involves how broadly a yearbook includes different students and activities. "In our yearbooks, you're not going to see the same people on every single page, and you're not going to see pictures without captions," Burress explained. "You're going to see each student's story as it is packaged in that yearbook."
In addition to the Hoosier Star award, other recognitions given to PHS Publications are as follows: PHS Silhouettes placed second for Academics Coverage, the Quaker Shaker placed second Editorial Writing, PHS Silhouettes won first place for Yearbook Album, PHS grad Elizabeth Taylor placed second for Spot News Photo, PHS grade Liza Petersson placed first and second for Advertising, senior Sri Nattam won first place for Feature Writing, and junior Connor Burress won first place for Photography Portfolio and second place for Sports Photo.
The IHSPA conference includes a keynote speaker that addresses the audience, followed by the announcements of the award winners. After this, students are released to attend sessions on a variety of topics revolving around student journalism, such as photography, design, writing, leadership and more. "There are many different options for students to explore, based on their interests," said Burress. Burress felt that the convention provided students with the opportunity to hear from professional journalists that can give them information that they can use, "not just in high school but potentially in a future career," she said.
As president of the IHSPA, Burress had ideas to improve conventions in the future. "I hope that in the future, we can have even more interaction between schools and students," she said. "We'd have regional types of events where we'd invite people from different schools around our area to come in and work with us and trade ideas." Burress knew that the goal of scholastic publications was to tell the story of every student in their school, and that they should endeavor to become even stronger by using tips from other student publications. "All of us ultimately want to tell the stories of our students each year. Working together to figure out interesting ways to do that is a win-win for everyone."
Story by Lucy Foxworthy