News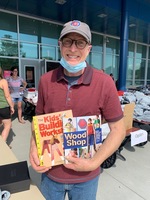 Our Van Buren PTO and school community celebrates Mr. Helmuth and his love for woodworking by purchasing books for the student library. Van Buren Elementary will forever...
Don't forget...Our Supply Pick Up is here! Please pull around to the back of Van Buren and remain in your car. Staff will assist in locating items for you. We are looking...
VB staff is lining up and getting ready to leave. We can't guarantee the time we will be on each street, but just know we are heading out soon! Can't wait to see everyone!
SEE ALL NEWS