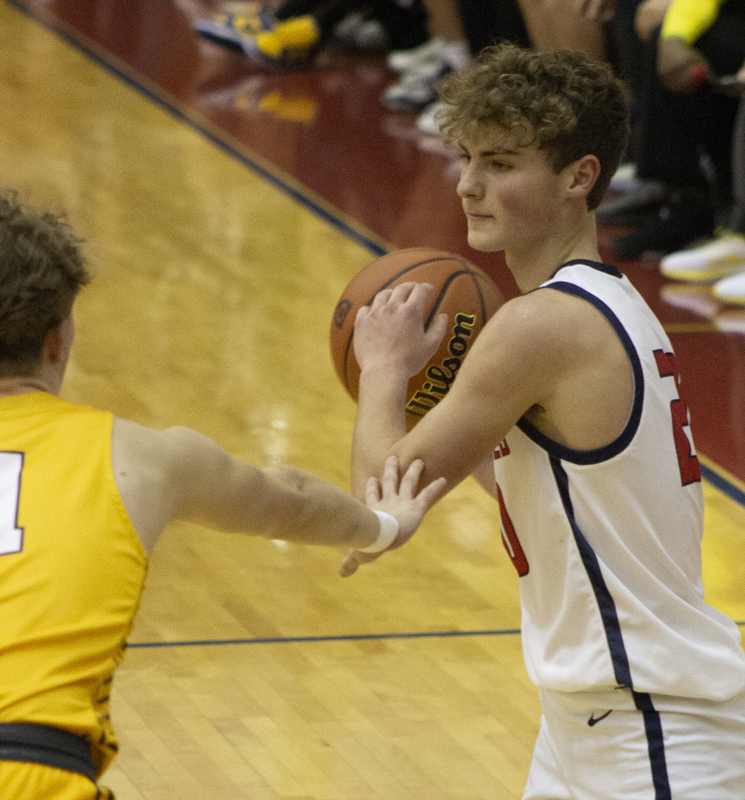 Junior Eli Ellis looks for an open player to pass to as he keeps away from the Mooresville defense at the Homecoming game on Friday, January 20. (Photo by Aidan Menke)
---
In the Battle of the Border, Plainfield and Mooresville are tied 48 to 48 in front of an electric Quaker crowd. As Plainfield gets a crucial stop on defense, junior Eli Ellis drives the ball up the court weaving in and out of the Pioneer defense.
Getting to the block, he kicks it over to freshman Noah Smith, who puts it in the basket for a 50-48 lead, and five seconds later, a Quaker win.
Smith said, "I felt relieved that we had won the game, but also excited that I had made the shot to win the game; it was pretty awesome."
Amidst all the things going into this game – the Homecoming court nominees, the Robotics halftime show and a filled-to-the brim student section – one thing still stood: Red Pride. Smith talked about the energetic crowd, noting, "Since it's so loud, the team really feeds off that and it's a key part of our success."
Junior Luke Brewer described the student section as being really "hype." Before the game, signs that said, "Red Pride 3" were passed around the student section; for every three pointer that was hit, senior Spencer Crum would race up the bleachers to staple it at the top, high-fiving everyone he could reach on the way up and down.
When the game winning shot by Smith went in, the student section went wild. Brewer said, "When the shot was going up, everyone was kind of holding their breath to see if it was going to go in, and when it did, everyone got so hyped, jumping around everywhere."
Following the game, the student section stormed the court – an activity carried on from the football games this year – and the fans were ecstatic. Not only did Plainfield come away with a statement Homecoming win, but memories were made for those involved. Smith added, "The atmosphere was crazy; so many people were shouting, and it really helped us win that game against a tough rival."
Story by Kyle Stout