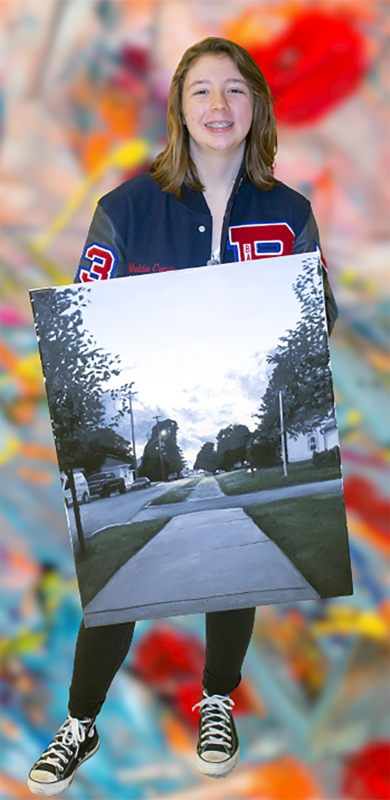 ---
On Thursday, January 26, senior Maddie Comer anxiously waited for the Scholastic Art and Writing Competition results to be released. Refreshing the official Scholastic website countless times, the results finally appeared.
Winning two Gold Keys and two Silver Keys for her realism art, Comer rejoiced knowing she could now reap the benefits of her efforts. While the Silver Key is recognized as an amazing achievement on its own, the Gold Key is one of the best awards one can get in the beginning stages of the competition. "Winning the Gold Key means that my hard work is paying off," said Comer. "The first time I won a Gold Key, it made me realize that maybe I could have a successful art career."
Because of her success, Comer will move on in the Scholastic Art Competition to the national level, where she will have the chance at getting scholarships and the possibility of going to New York to have her work shown at a ceremony celebrating hundreds of students who have had success within the competition.
For Comer, her love of art has always been with her. While as a child, it was just a hobby she enjoyed, as she got older, her hobby turned into a possible career path, one she is taking far more seriously after the constant success she has received from the Scholastic Art Competition.
"My love of art started as a young child, but I started pursuing art on a more professional level in the last couple of years," said Comer. "My art is a product of my interests and my perception of the world around me. My art is a product of me and my viewpoints."
Story by Braeden Craig