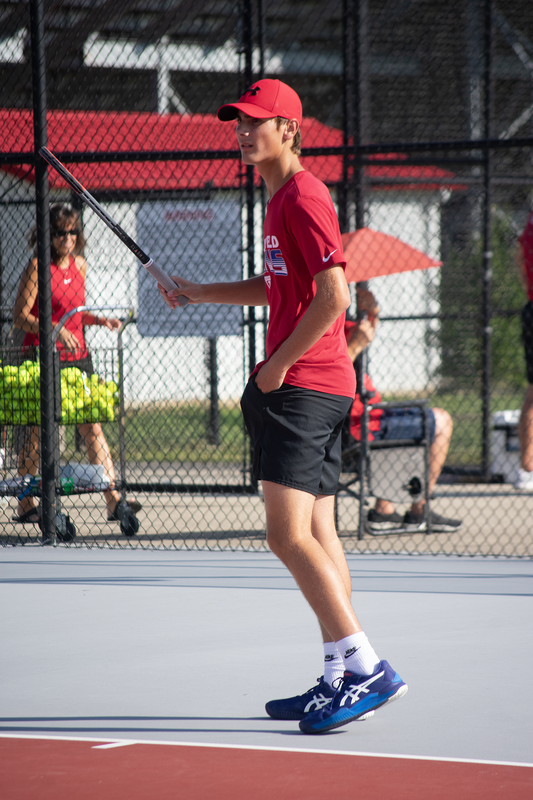 ---
The grand opening. Courts inside and outside. Luxurious locker rooms. Twenty years from now, senior Marcus Cox stands proudly at the entrance to his tennis facility, welcoming the athletes as they pour into the building.
Opening a grand tennis center, however, doesn't come without hard work. Cox began teaching kid's tennis during his junior year of high school, after his private lessons coach offered him a job assisting at the middle school. "I was able to work with Coach Brian Planker, the middle school tennis coach, make money and get coaching experience," said Cox. "I've been doing that for two years."
During the summer, Cox's busy schedule involves waking up at 6 a.m. to mentor students from kindergarten through eighth grade. ''I would have them do drills and then we would do fun games to keep them entertained," explained Cox. Despite the early hours and repetitive instructions, Cox adores working with youngsters. "It's tiring, but I still get through the day because it's super fun to be there," he said.
Even if Cox was not involved with tennis, teaching would still be a goal of his. "I feel like I want to be a speech or English teacher," Cox explained. "Elementary school teaching would be really fun because I'm already centered around kids."
While many would shy away from a teaching job, Cox is up for the challenge. "The worst thing is when the kids aren't paying attention," he said. With one student in particular, Cox witnessed this first hand. "A four-year-old I was coaching would not listen to me for anything," he explained. "That was the most annoying thing."
However, the memories that come with coaching outweigh the challenges. On the last day of a summer training camp, one of the participants brought Cox a gift bag with candy and a handwritten card thanking him for coaching. "I was his favorite coach," Cox explained. "It was so cute. I felt so happy because I knew I was able to impact him."
Just as Cox was able to impact the athletes he coaches, his coaches have impacted him as well. "Coach Planker was the first person to ever coach me," Cox explained. "I want to be like him and put that joy into tennis as he did for me."
Cox also noted that coaching is a very important thing for young athletes to do, as it allows them to get more insight into the coaching experience. "You can coach little kids and see how annoying it can be, but then you can relate to it because it's like, 'Maybe that's how my coach has felt about me,'" he explained. "It's a really good eye-opening experience."
Cox is determined to continue coaching impacting the lives of teens through tennis. "My favorite thing is just that bond I have with the kids, and the joy I get out of coaching," he said. "The more I have an impact on them, they impact me as well."
Story by Lily Saylor