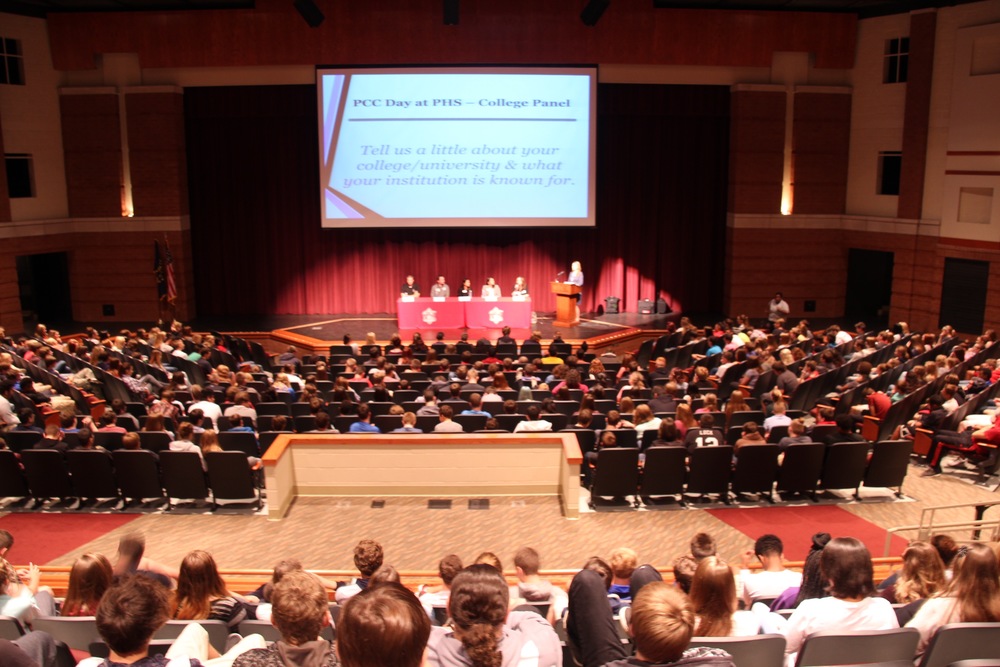 First College & Career Planning Day deemed a success
Sabrina Kapp
Friday, October 21, 2016
Students at Plainfield High School had a unique experience on Wednesday: spending a full day in school without attending a single class.
Instead, the day's activities focused everyone's attention on planning for the future. And based on the day's success, it's likely to become an annual event.
While seniors received assistance planning for college visits and job shadowing, the rest of the building's students took part in panel discussions, course planning, testing and convocations.
The idea for College & Career Planning Day came about when school administrators were trying to find a better way to structure the day when sophomore and junior students take the PSAT. The nearly half-day test disrupts a normal class day, while also disrupting the routine for freshmen and seniors.
The new format brought a focus and some excitement to the topic, although those taking the PSAT probably didn't describe it as exciting! Freshmen heard from representatives from Butler, Franklin, IU, IUPUI and Ivy Tech on topics ranging from how to prepare for applications to what to expect once on campus. College majors and how to prepare for them were also covered.
Next up, they heard from local business leaders from Duke Energy, Eli Lilly, WalMart e-Commerce, Hendricks Regional Health and the Area 31Vocational Career Center. The business leaders talked about careers, how to work towards long-term career goals, skills needed for today's hottest jobs and many more topics.
With their minds filled with the possibilities following high school graduation, freshmen returned to their home rooms to work through a series of assignments designed to help them plan their courses for the remainder of high school.
Following lunch, when upper-classmen had completed the PSAT, all students took part in two convocations. One featured someone from the Department of Justice, who prosecutes crimes that include anything involving a cellphone or the Internet. While their department covers many areas of online crime, it specifically focuses on how students often innocently get caught in sharing or possessing child pornography.
The other convocation featured Indianapolis Colts spokesperson Josh Bliell, a former Marine who lost both legs during active duty. Bliell now speaks to groups about overcoming hardships and disappointment and finding the positive in difficult situations. His use of humor and reality while discussing loss and determination seemed to resonate with students, who lined up afterwards for photos with him.
PHS students earned this convocation as a result of last year's online pledge drive for the Indiana Attorney General's #BitterPill program. Given the state's epidemic of prescription drug abuse, the pledge drive encouraged students throughout Indiana to go online and take the pledge not to share or abuse prescription drugs.
In addition to the convocation with Bliell, the Indianapolis Colts and Attorney General Greg Zoeller presented PHS with a check for $5000.
So the day without classes covered many topics, included a test for some students, and presented many learning opportunities. It was just packaged a little bit differently. And yet was another successful day in the halls of PHS.