Quaker friends: I'm aware that some people did not receive the text/voice/email/app alert that was sent today at 4:49 pm. Tomorrow, February 16, 2021, is an E-Learning Day for all Plainfield students. We are working to resolve the issue with our messaging system.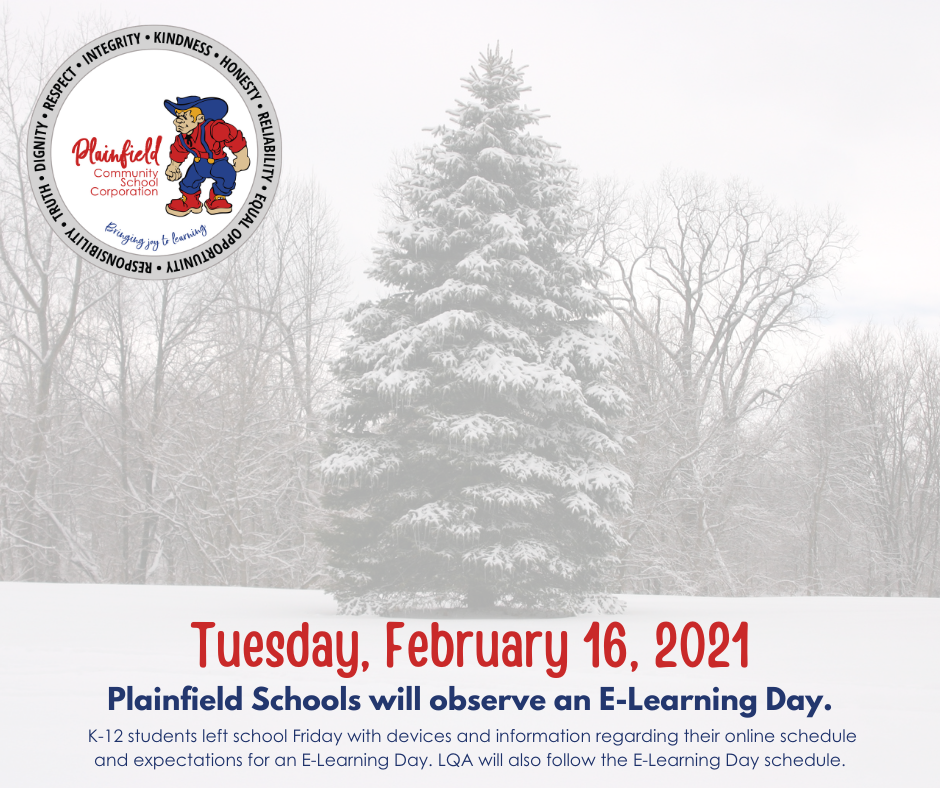 Tuesday, February 16, 2021 will be an E-Learning Day for Plainfield Community Schools.

It's Girls Swim & Dive state meet this weekend, and Plainfield has a strong team of student-athletes wearing the Quaker name! Congratulations and best of luck to each of you!

The February School Board meeting will be held Thursday evening at 7 pm in the Board Room at the Administration Building. We will be live-streaming again, via our YouTube channel. Limited attendance will be available; masks are required. We hope you'll join us!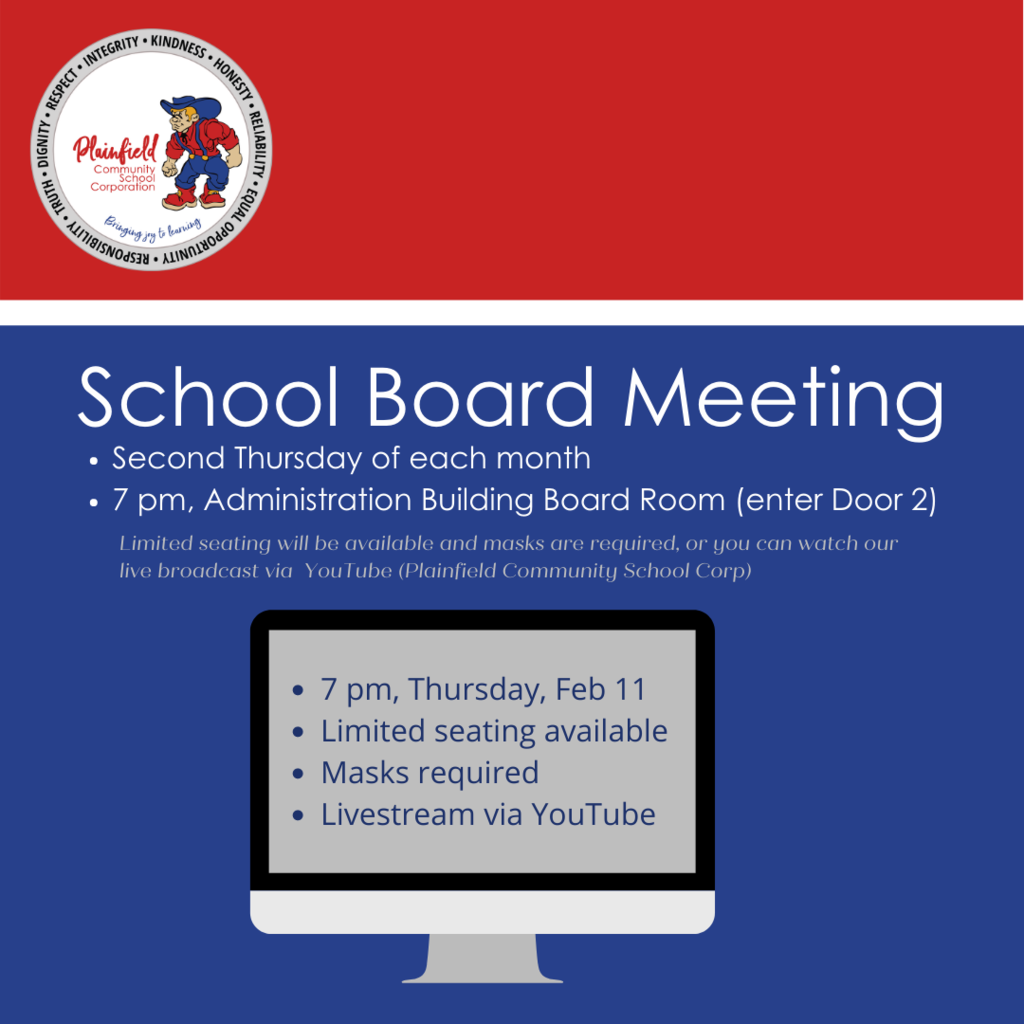 Have you completed your child's registration for preschool next year? Here are the steps to be certain we have a spot for your Little Quaker!

Beginning Monday, registration for the 2021-2022 school year begins!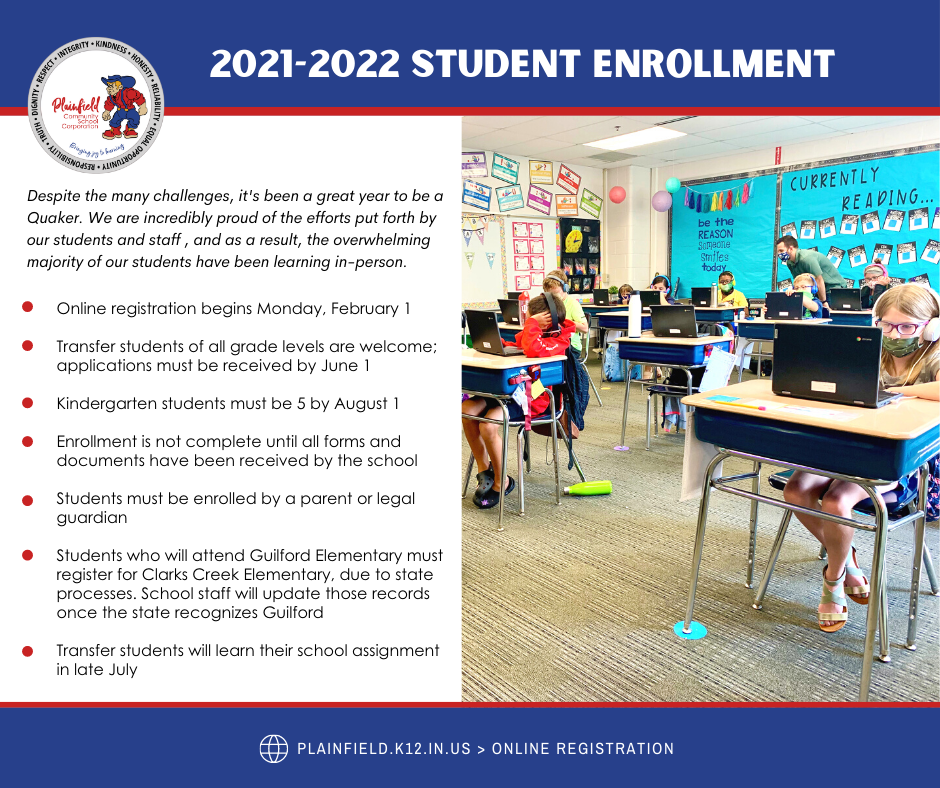 It may still be January, but schools are preparing for the coming school year! In fact, if you have a preschool-aged child, you should watch our video about Little Quakers Academy; we'd love to have you join our family! Registration begins February 1!
https://youtu.be/DyZkRGtqiXc

PCMS 8th grader, Sebastian Gentry, was recently named to the 2021 Indiana Bandmasters Association Junior All-State Band. While the celebration of this honor would normally include a performance at the state's music educators' conference, this year they turned to the now-familiar Zoom option. You'll spot Sebastian, playing his trombone, as he and his peers perform the newly commissioned "Summit," by Kevin Day. Watch the performance and learn more about this program here:
https://www.youtube.com/watch?v=_LOGxjYFiXM
. Congratulations, Sebastian!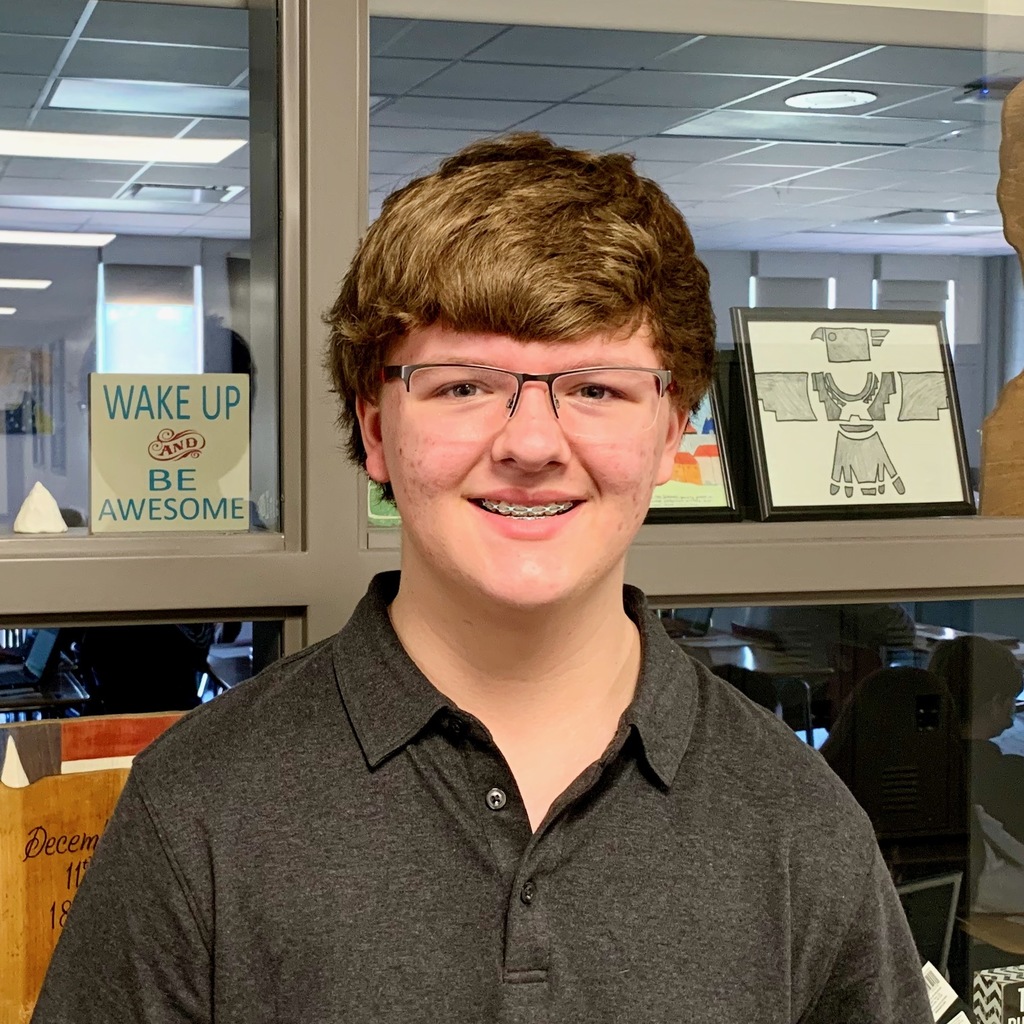 We're looking for outstanding secondary (middle and high school) teachers who would love to join the Quaker team! Our recruiting fair will be virtual this year, so we've interviewed some newer teachers so they can fill you in on their own experiences. February 22 is the date - check out the web page for all the details and to learn how to get a virtual interview:
https://www.plainfield.k12.in.us/page/secondary-teacher-recruiting-fair
And here is the link to the video:
https://youtu.be/V02tTLQRApI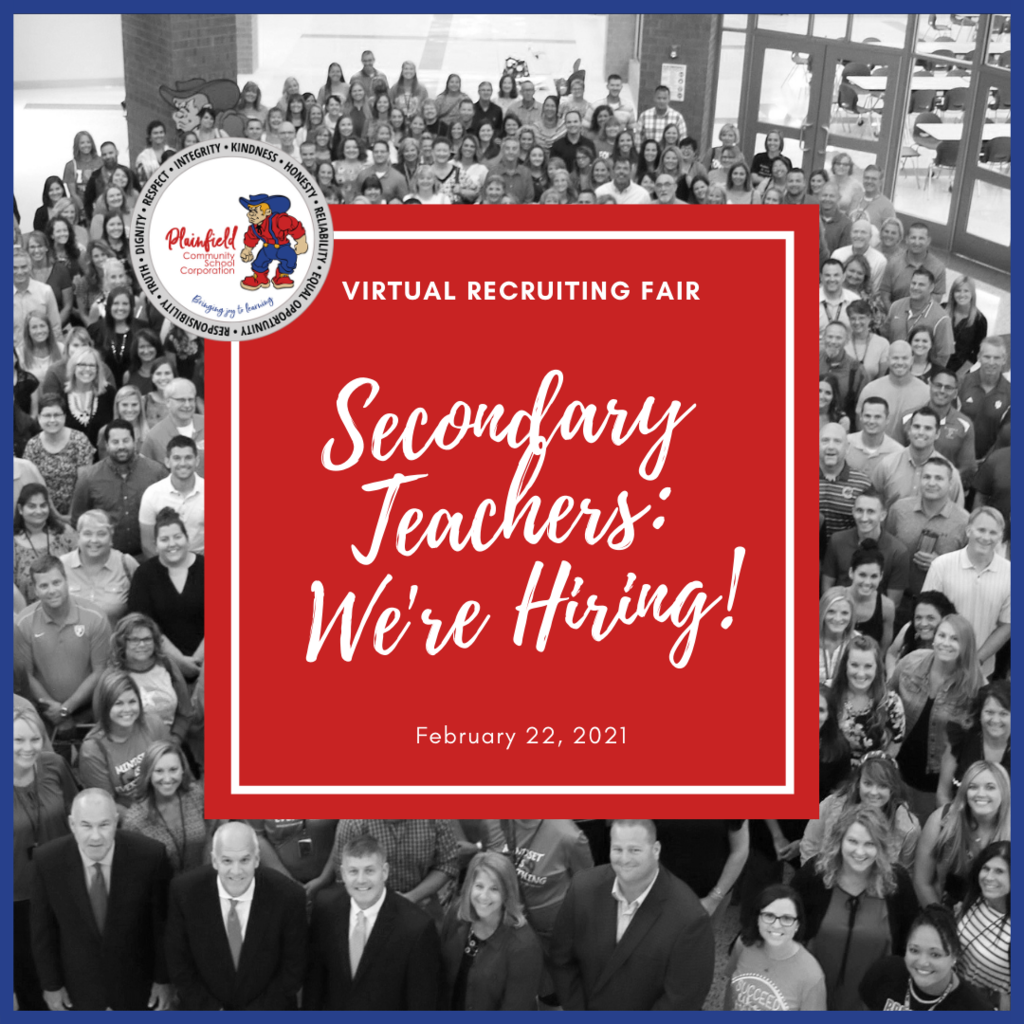 Monday, January 18 is a school holiday in observance of Martin Luther King Jr. Day. This federal holiday is a reminder of one of King's core values and quotes: "Everyone can be great, because everyone can serve." AmeriCorps urges us to think of ways to serve others, and offers ideas for virtual service experiences at americorps.gov.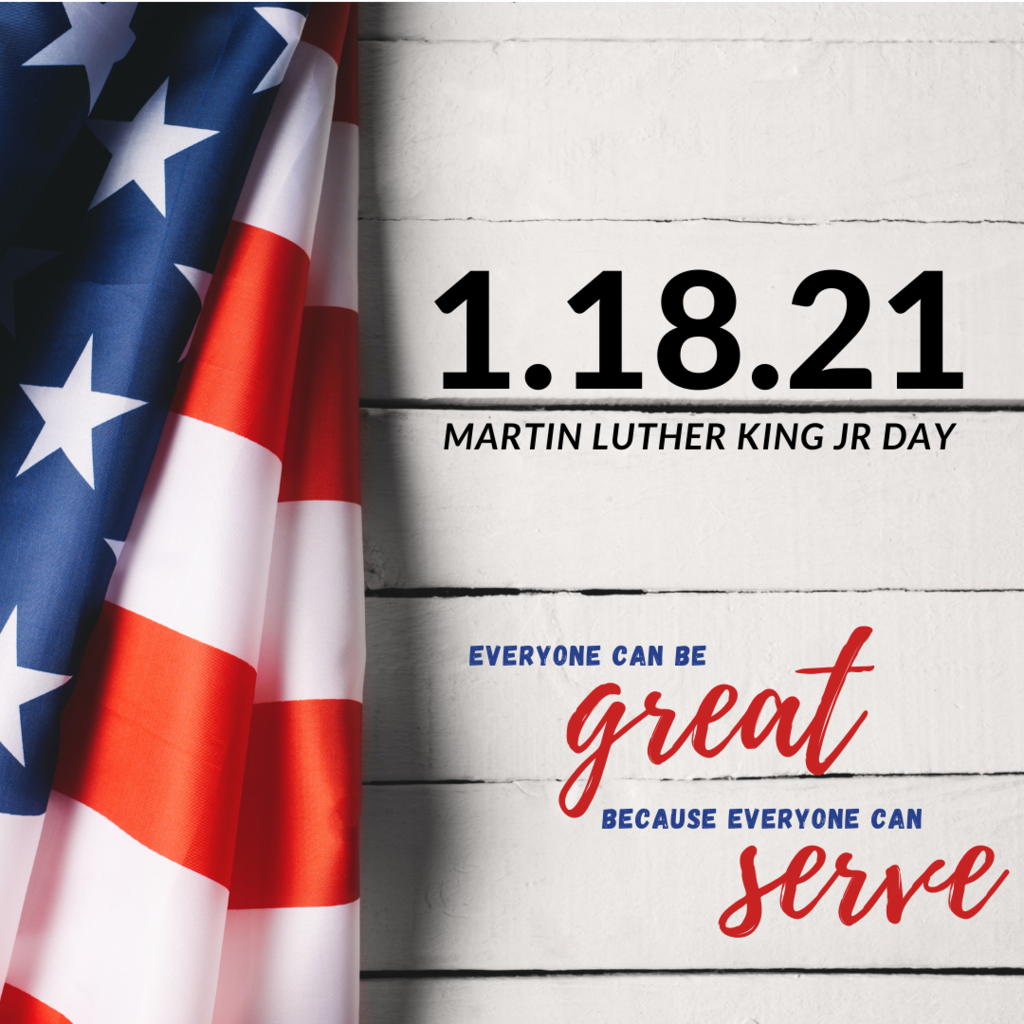 January 9 is National School Resource Officer Day, and we are incredibly grateful for the SROs who work in each of our schools!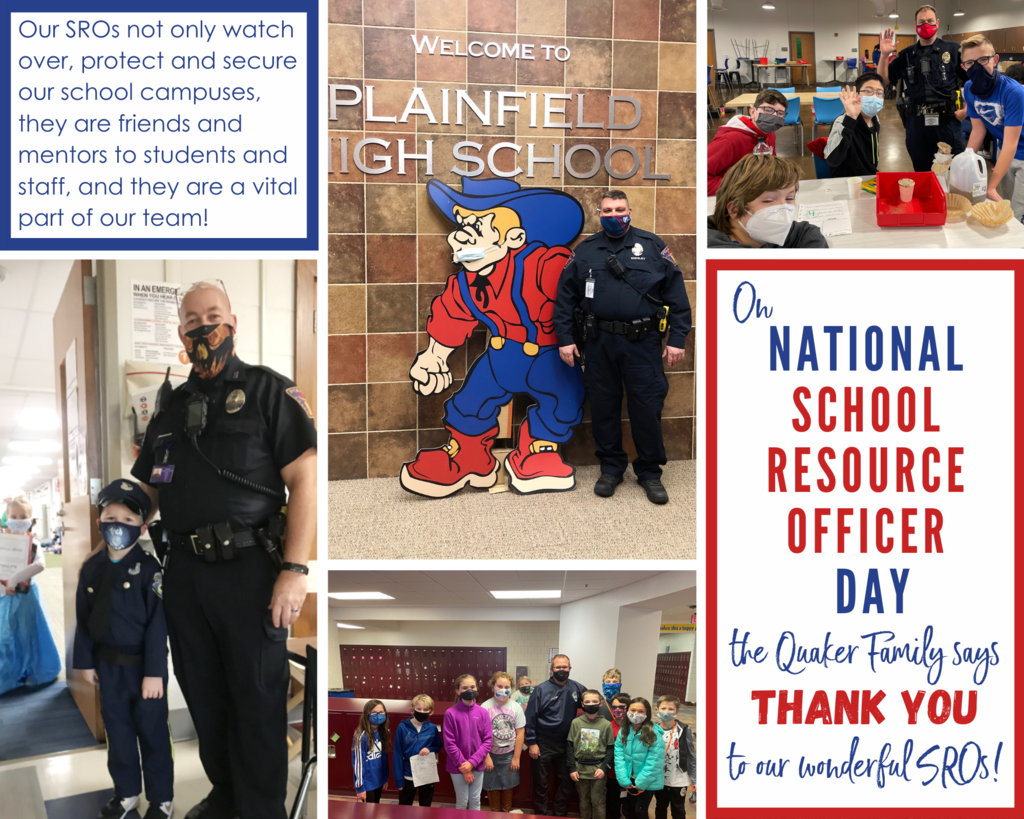 Late last week, the Administration Building board room was filled with bags, tags and gifts for Plainfield children, courtesy of the Clothe-a-Child program. Chaired locally by Jenny Rice, the Hendricks County MIBOR chapter (Metropolitan Indianapolis Board of Realtors), with support from realtors, mortgage, title and other real estate-related companies, works year-round to raise monies for the effort. "We have a bowl-a-thon, corn hole tournament, golf outing, Thanksgiving event and several things in between," explained Jenny. While donations are not solicited, they are gladly accepted at any time of the year. Jenny and her committee work directly with school counselors to gather names, sizes and other important information needed for the big shopping event that takes place in one day at the Perry Crossing JC Penney store. Store managers work with Jenny to schedule a day when their dollars will stretch the furthest. The shopping experience is open to anyone who would like to help. For those without the means to make a financial contribution, this is a great opportunity to lend much-needed hands. Reflecting on her many years working with Clothe-A-Child, Jenny added, "shopping day is one of my favorite days of the year." We are incredibly blessed with so many helping hands throughout our community. To Jenny and everyone at Hendricks County MIBOR, thank you. Your kindness and generosity will brighten many smiles this holiday season.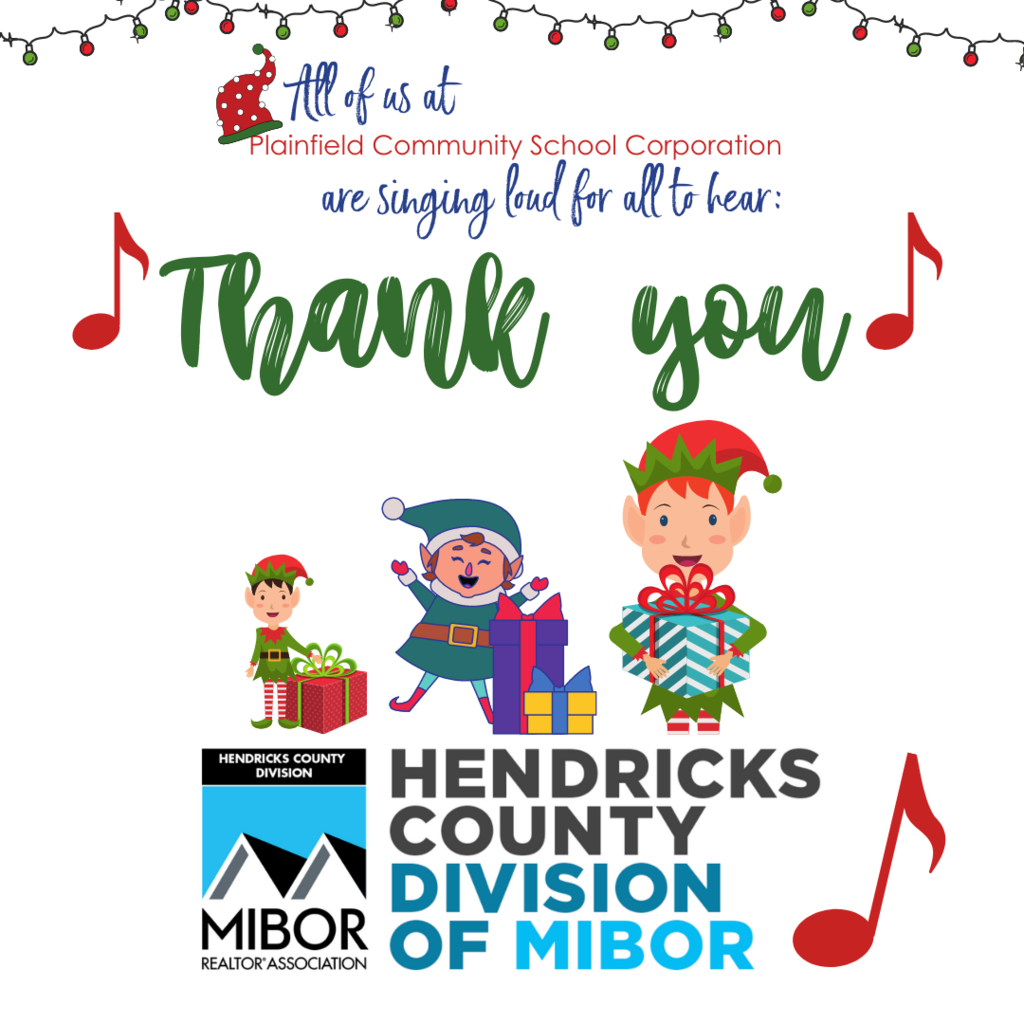 Check out this story about coding: Hour of Code or The Power of Code? You'll learn how students in every grade are putting computer coding skills to work in some interesting and exciting ways.
https://www.plainfield.k12.in.us/article/365708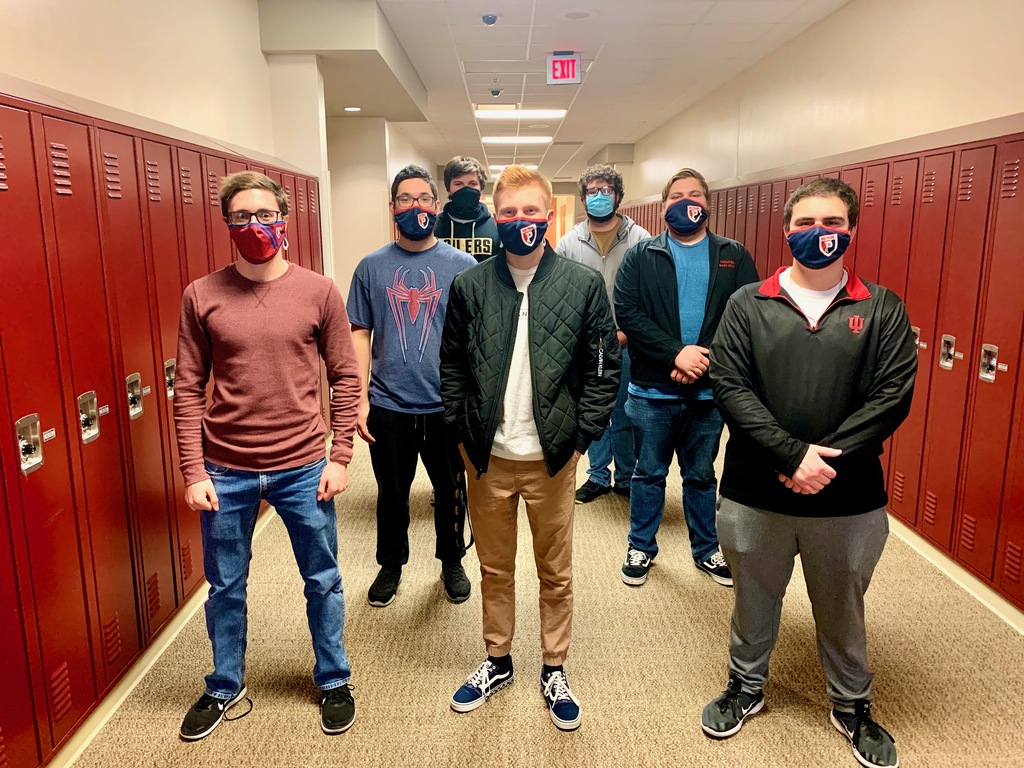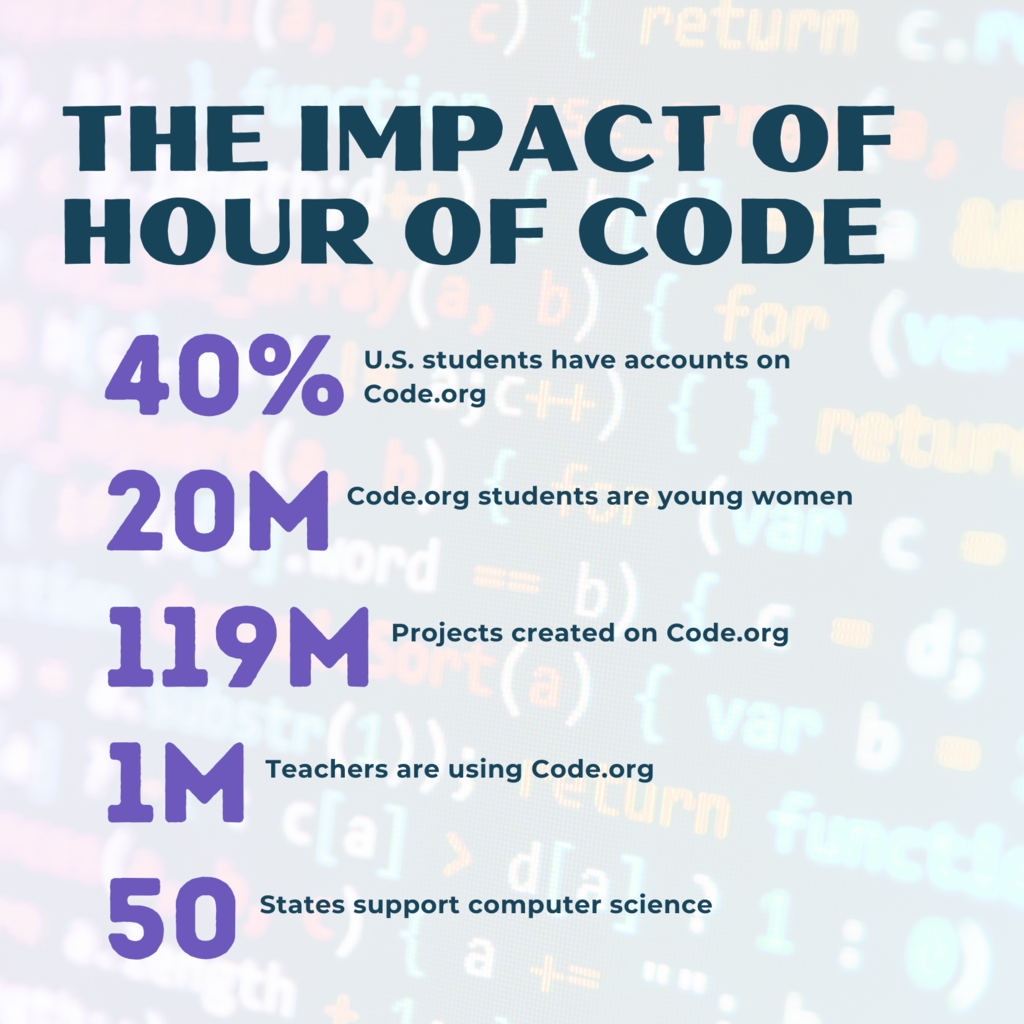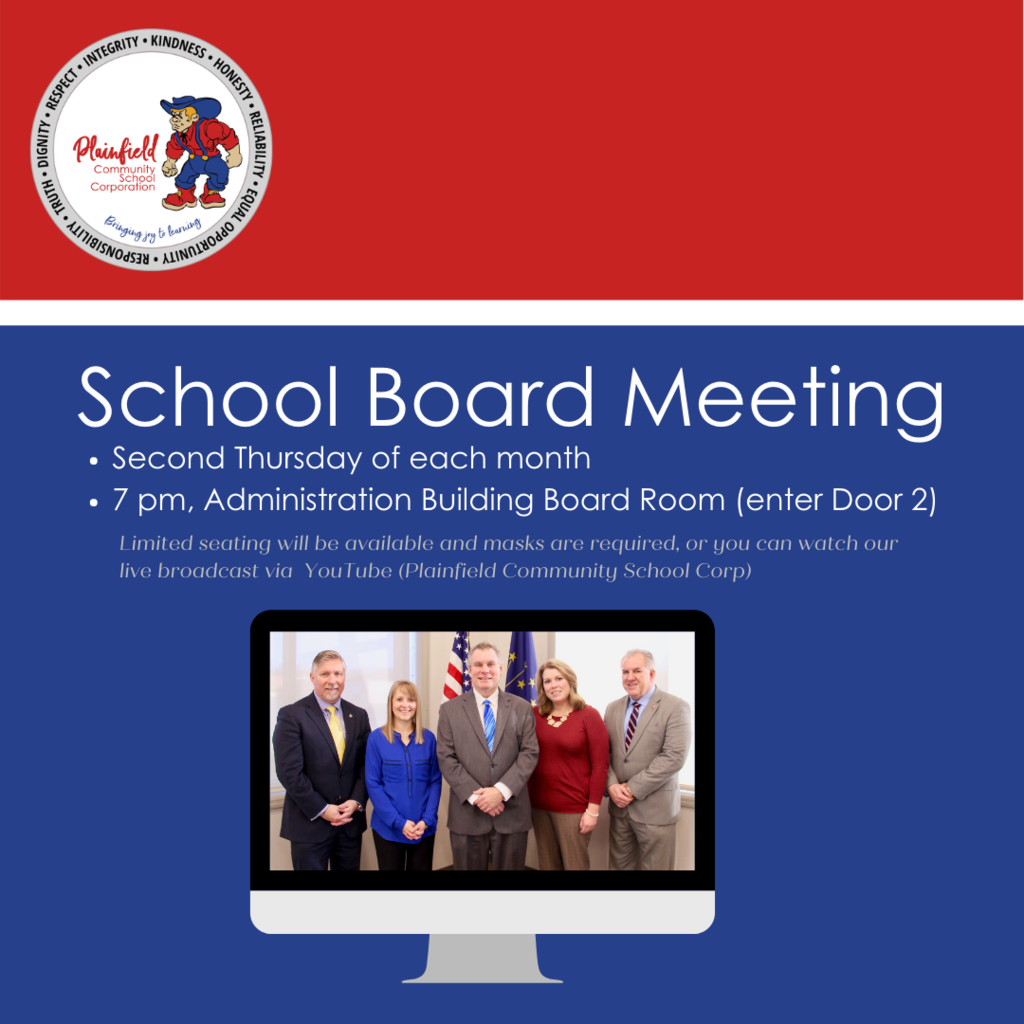 The December School Board meeting will take place Thursday evening (12/10/20) at 7 pm. Mask-wearing visitors are welcome to attend up to the current seating capacity, and the meeting will be carried live on our YouTube channel. We hope you'll join us in one form or another!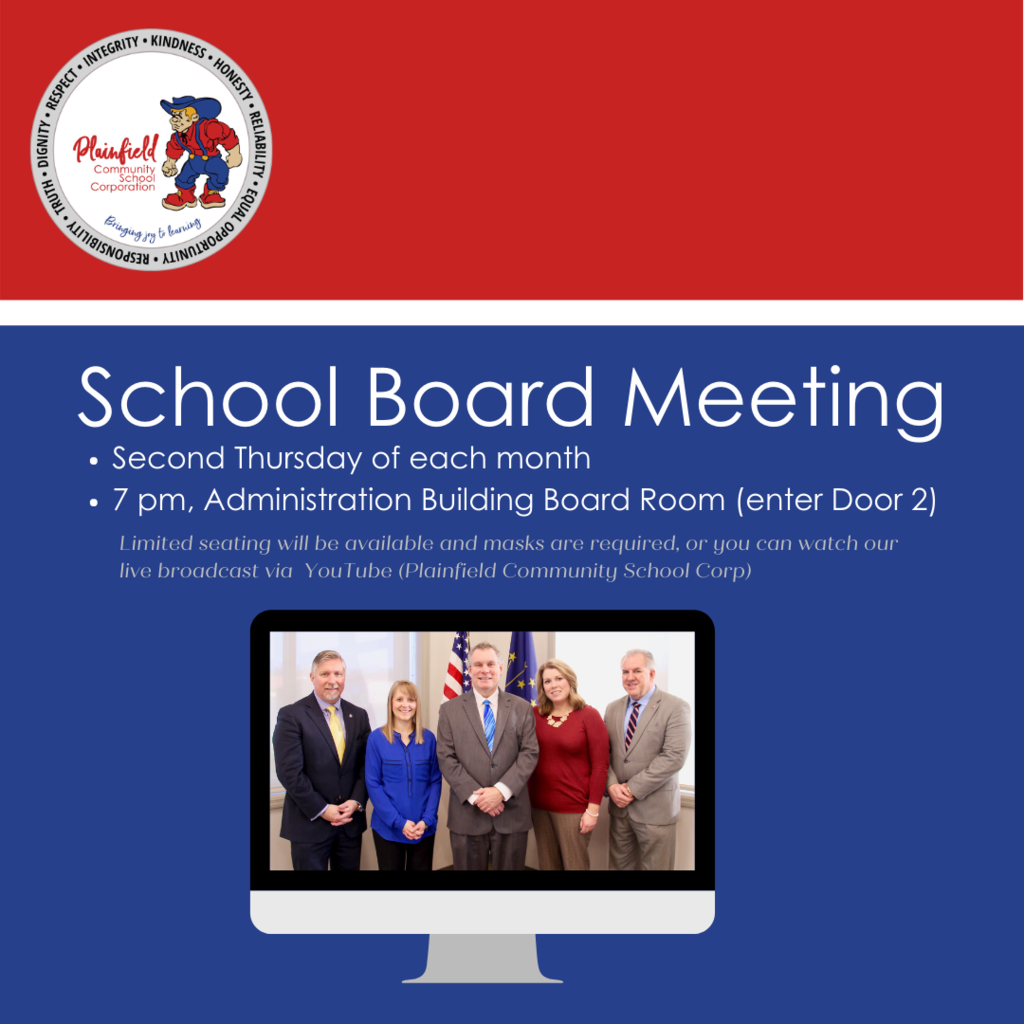 Each year since 1994 when Congress designated it a national day of remembrance, Americans have formally recognized today as National Pearl Harbor Remembrance Day. Just before 8:00 a.m. on Sunday, December 7, 1941, the Japanese launched a surprise attack on Pearl Harbor, killing 2,407 people and injuring 1,100 more. While the United States had been reluctant to enter World War II, this marked the turning point. Due to COVID-19, this year's official events will be closed to the public, although a small group of survivors will gather at the Pearl Harbor Visitors Center, located near Honolulu, HI. We honor all who served at Pearl Harbor and throughout our involvement in World War II, remembering especially today those who did not return to their homes and loved ones.

Please take a moment to watch this heartwarming story featuring a Central Elementary first grade student. What a big heart she has! #KindnessCounts #ThePlainfieldWay

December's Community Value is kindness, acting with goodwill and compassion. This year, perhaps more so than most, even a small kindness could change the day for someone you encounter. In our already generous, caring community, let's add another layer of kindness!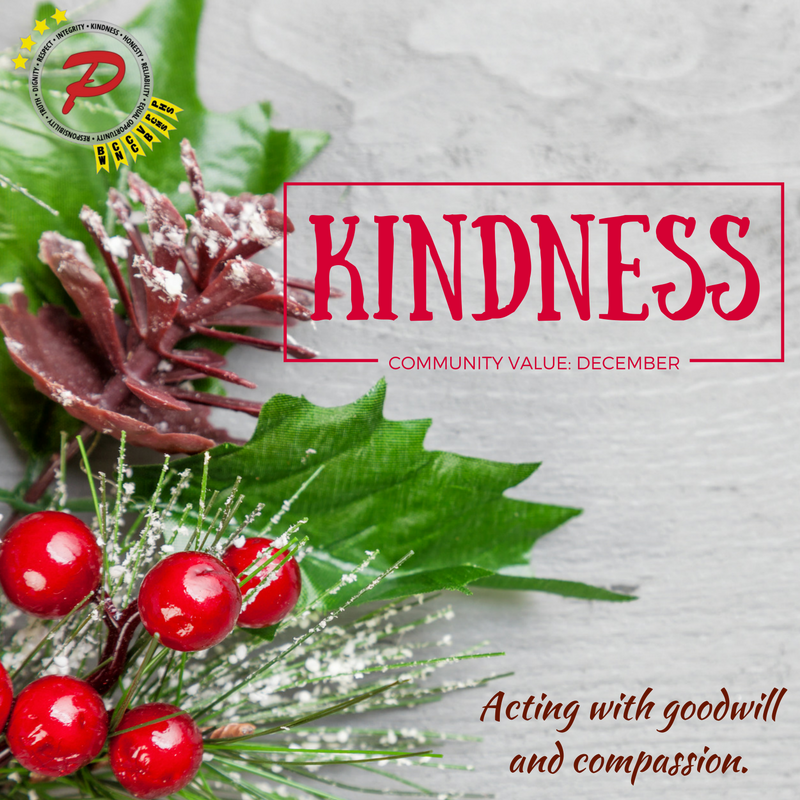 On a day when we often gather with family and friends, our focus this year is on our many gifts and not what is missing. We feel incredibly fortunate to do the work of educating children in a community that supports us in so many ways.