Fifth grade students at Central Elementary coding and presenting projects for #HourofCode2021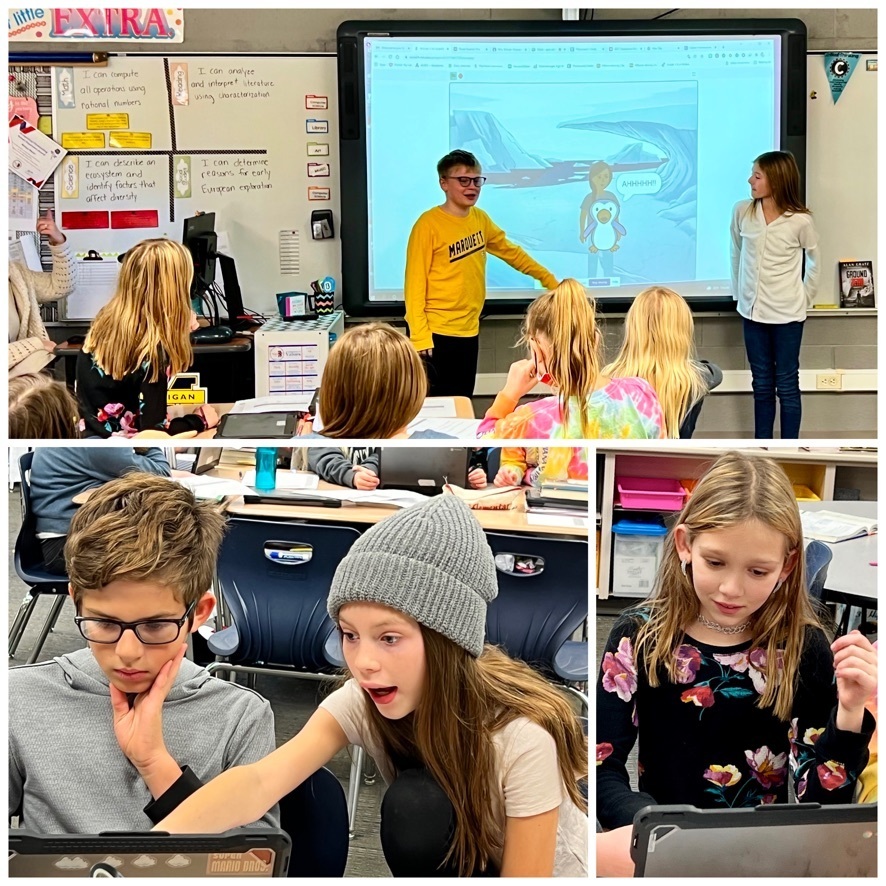 This Saturday marks the return of the PHS Life Skills Trike-a-Thon & Sensory Santa! Funds will be raised through trike-a-thon pledges and a silent auction, while photos with the Sensory Santa will be free! December 11, 1:30 - 3:30 in the PHS Fieldhouse.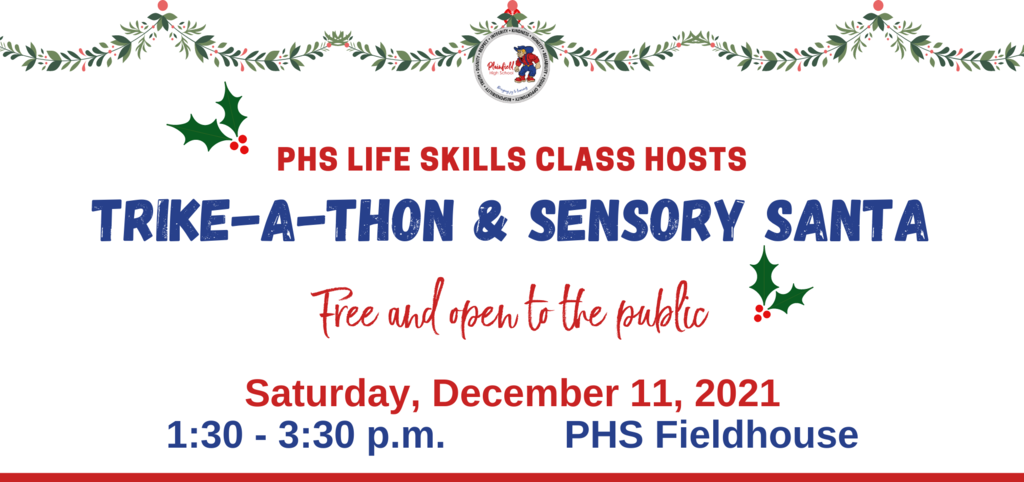 Please help us honor these four PCMS students, selected from 180 applicants for the Indiana Bandmaster's All-Region Honor Band! After a full day of Saturday rehearsals, they performed with their peers from around the state yesterday. We are very proud of their many talents!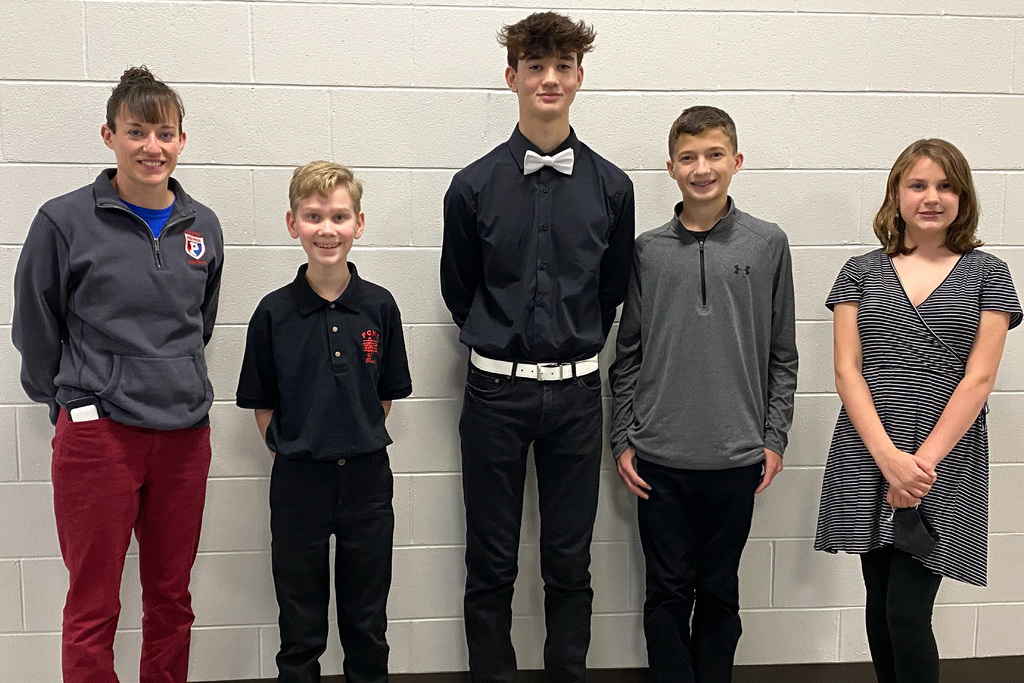 Our Admin team may be lean, but we can be mighty! With a focus on gratitude, kindness and giving this time of year, we collected food for local nonprofit @GiftKindness, and the items will find their way into snack packs for young Quakers. Thank you to all who support this effort!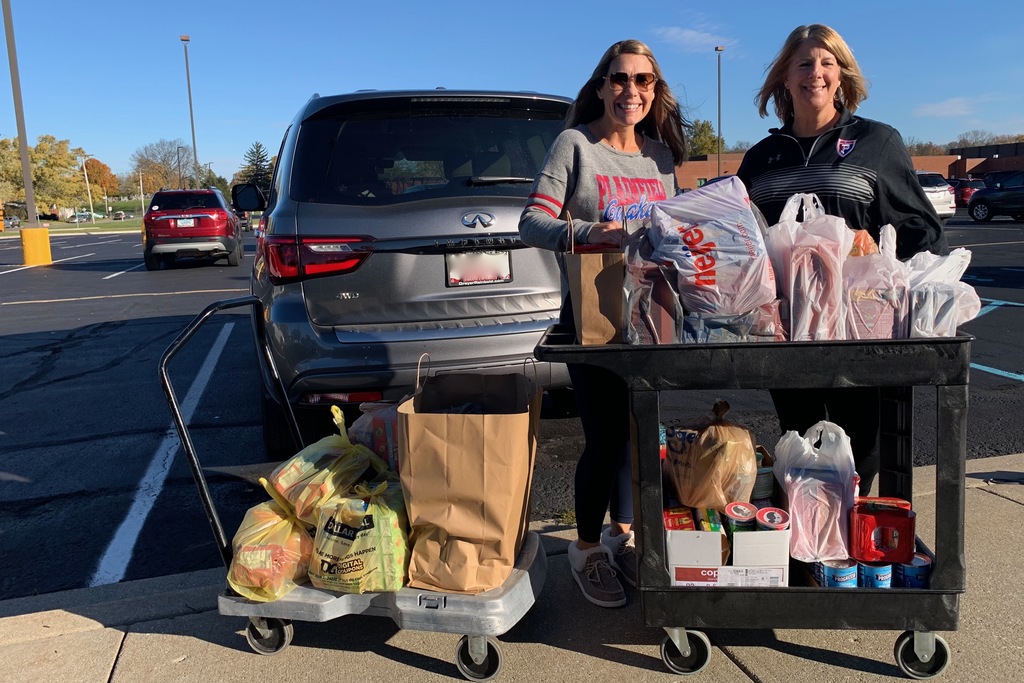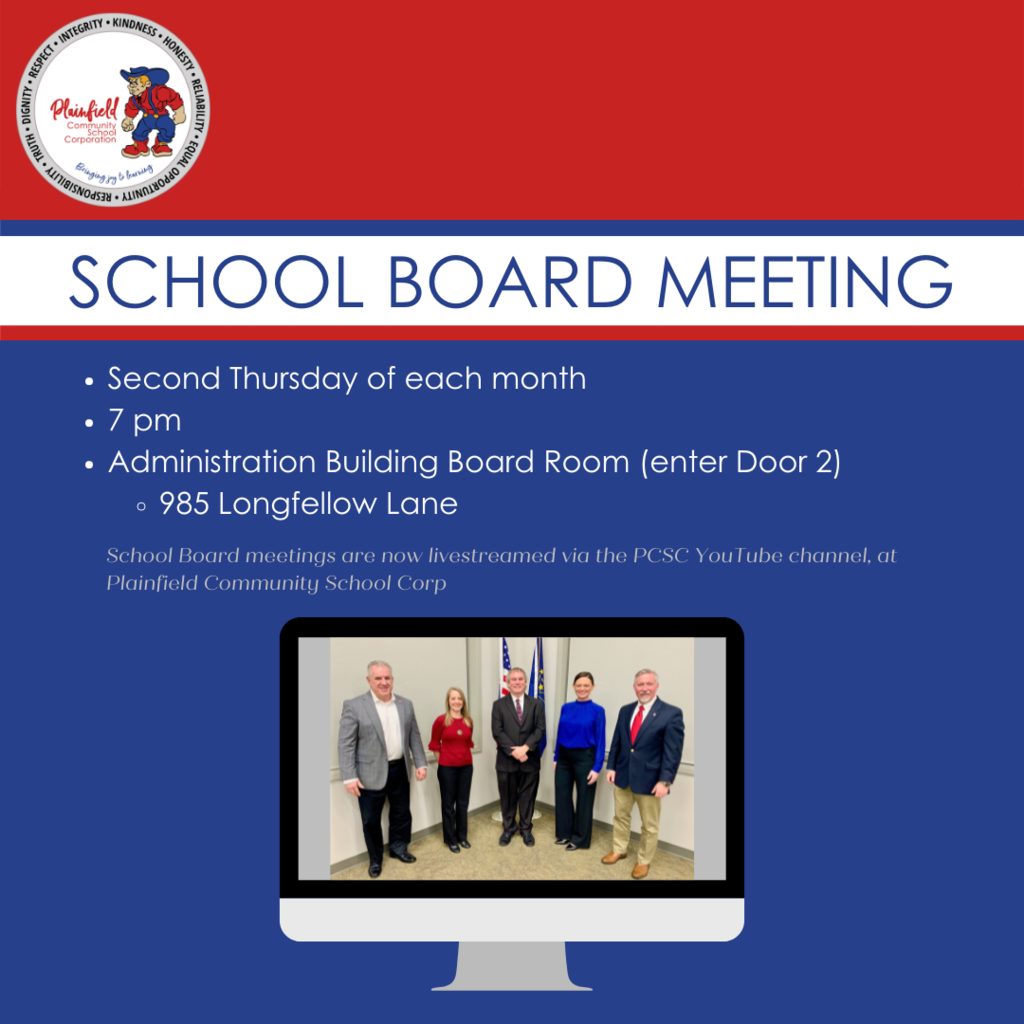 It's time to Fall Back this weekend! If you have clocks or watches that need to be adjusted, don't forget that this is the weekend to do it, and enjoy that extra hour of sleep. This is also a great time to change the batteries in smoke alarms. #QuakerSafe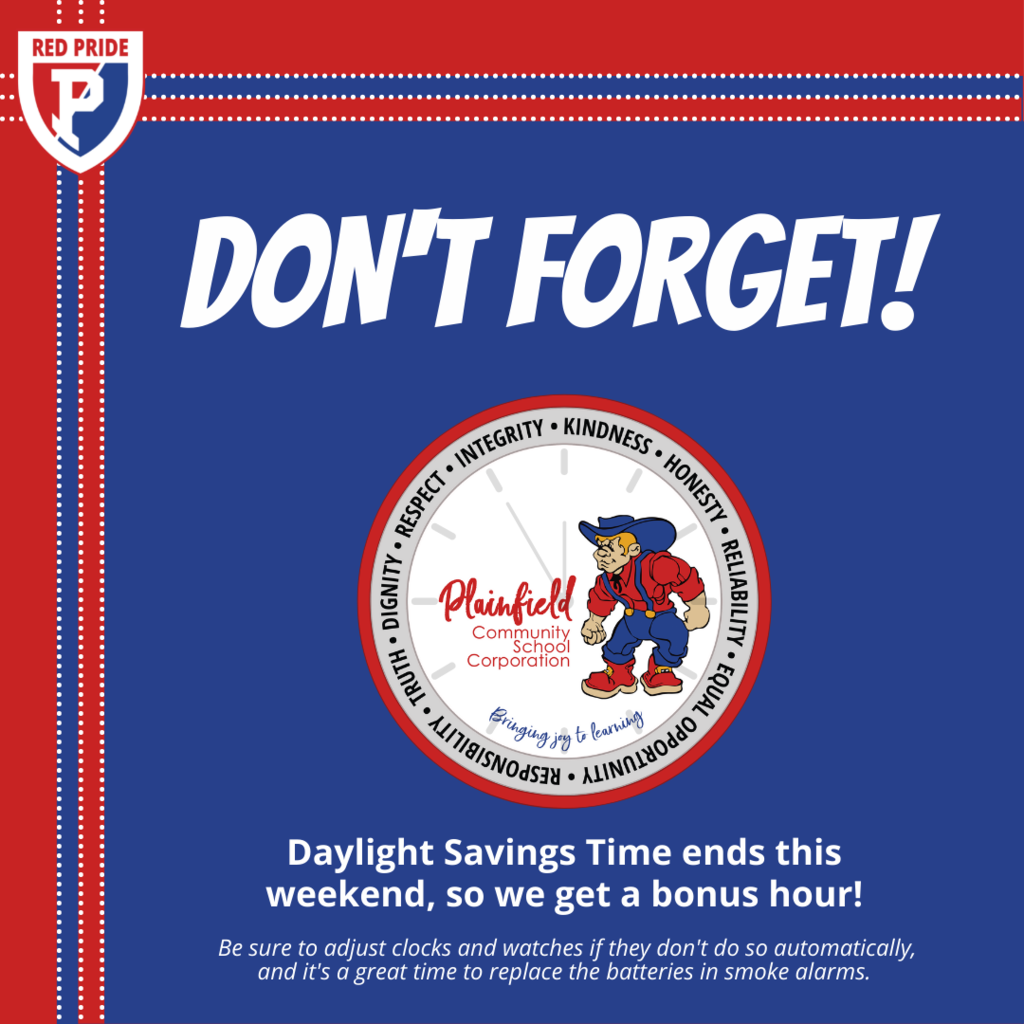 So proud of the PHS Student Government for hosting another successful blood drive. 94 pints of blood were collected, 282 lives were impacted and 79 first-time donors participated. On behalf of the community, THANK YOU to these students and staff! #QuakerFaces

Happy November!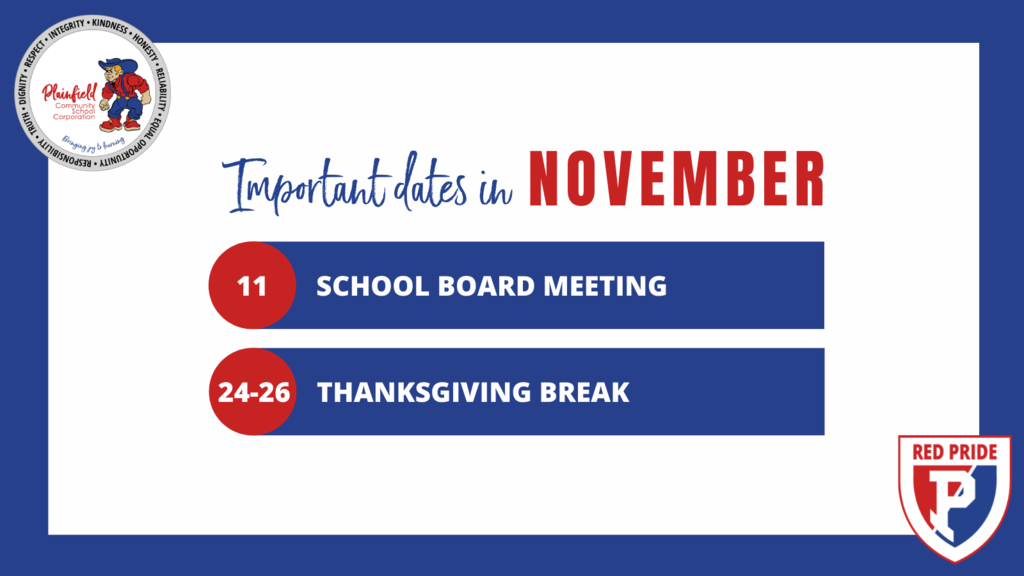 The Halloween Parade is a highlight of October for our youngest Quakers, and it is always so much fun for Clarks Creek students and staff, and district office staff, to watch! The photos that follow are just several glimpses into the fun that our Little Quakers Academy students have throughout the year.
https://www.facebook.com/media/set?vanity=pcscquakers&set=a.3940910726009258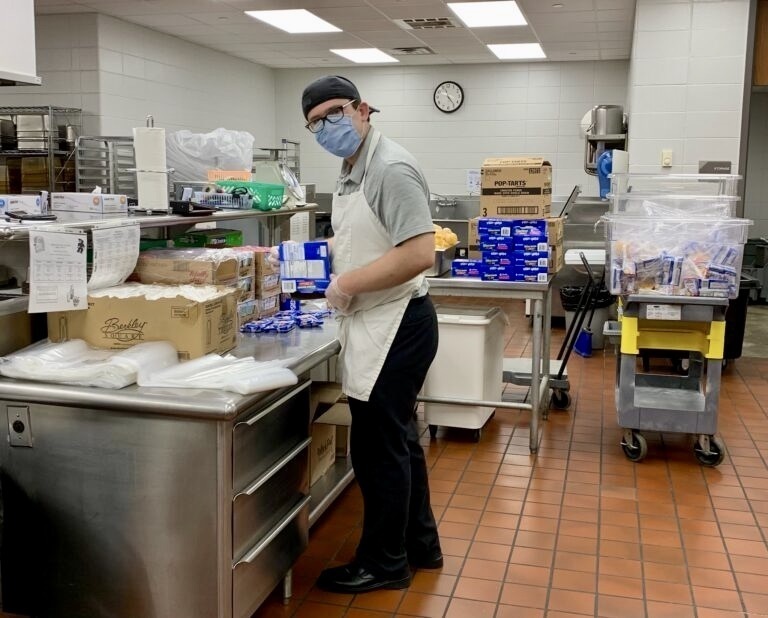 At last evening's School Board meeting, we honored these students who were recognized for the September Community Value of Dignity/Self-Esteem. Their letters of nomination reflect their big hearts, their actions and the hope we should all feel for our future. #ThePlainfieldWay

We're 20 minutes away from the start of the October School Board meeting, where we are thrilled to have students with us to receive awards for the September Community Value of Dignity/Self-Esteem. Watch via YouTube channel at this link:
https://www.youtube.com/watch?v=FLqrtttjOZE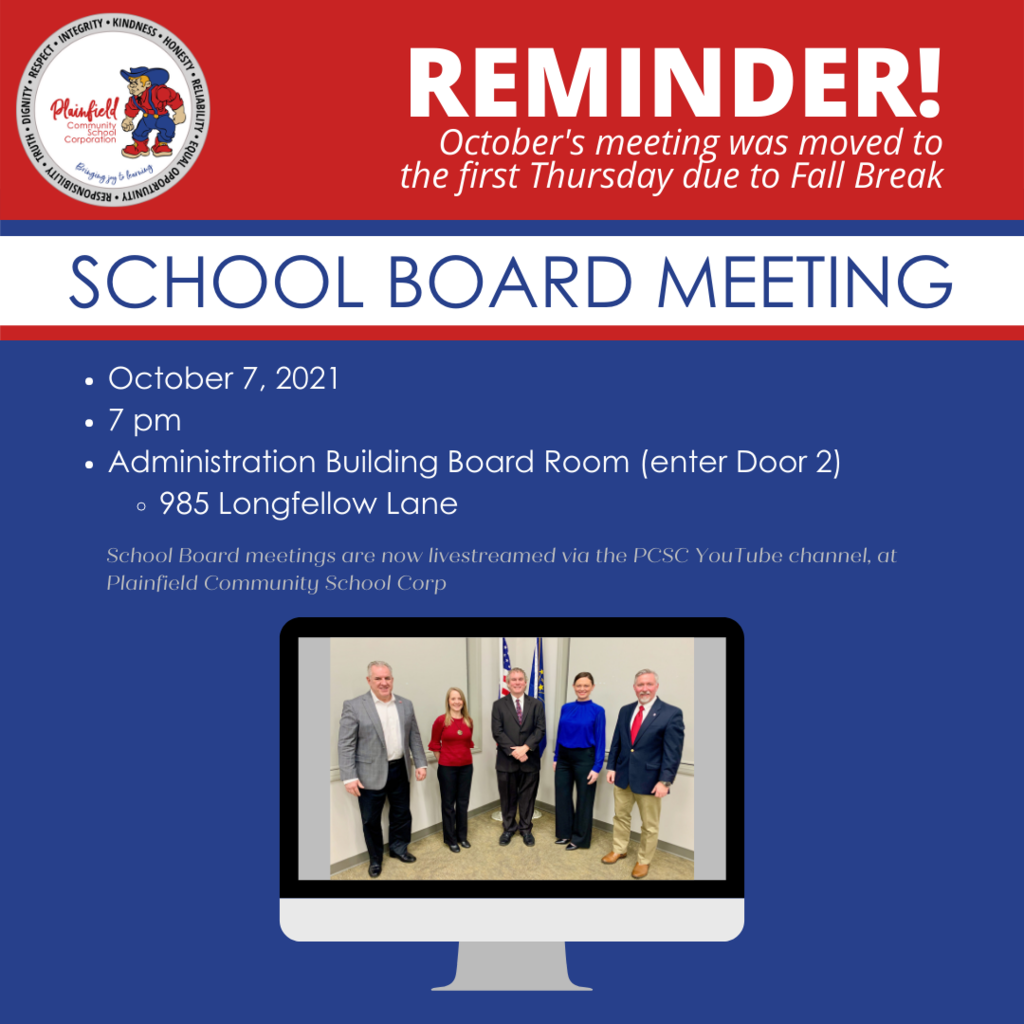 Important dates to remember in October!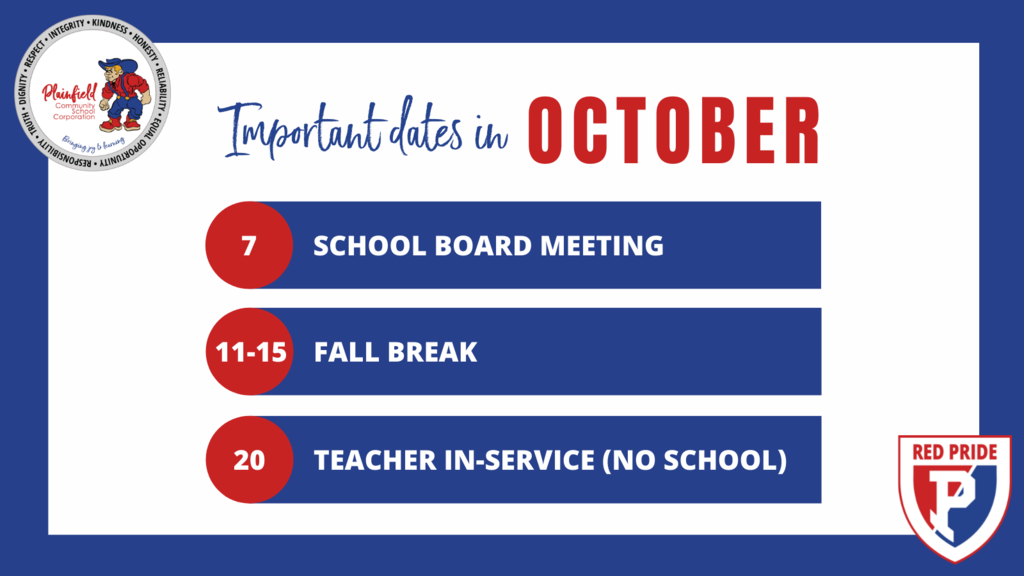 Don't forget that the October board meeting is this week due to Fall Break! Tomorrow evening, 7 pm in the Board Room or on our YouTube channel.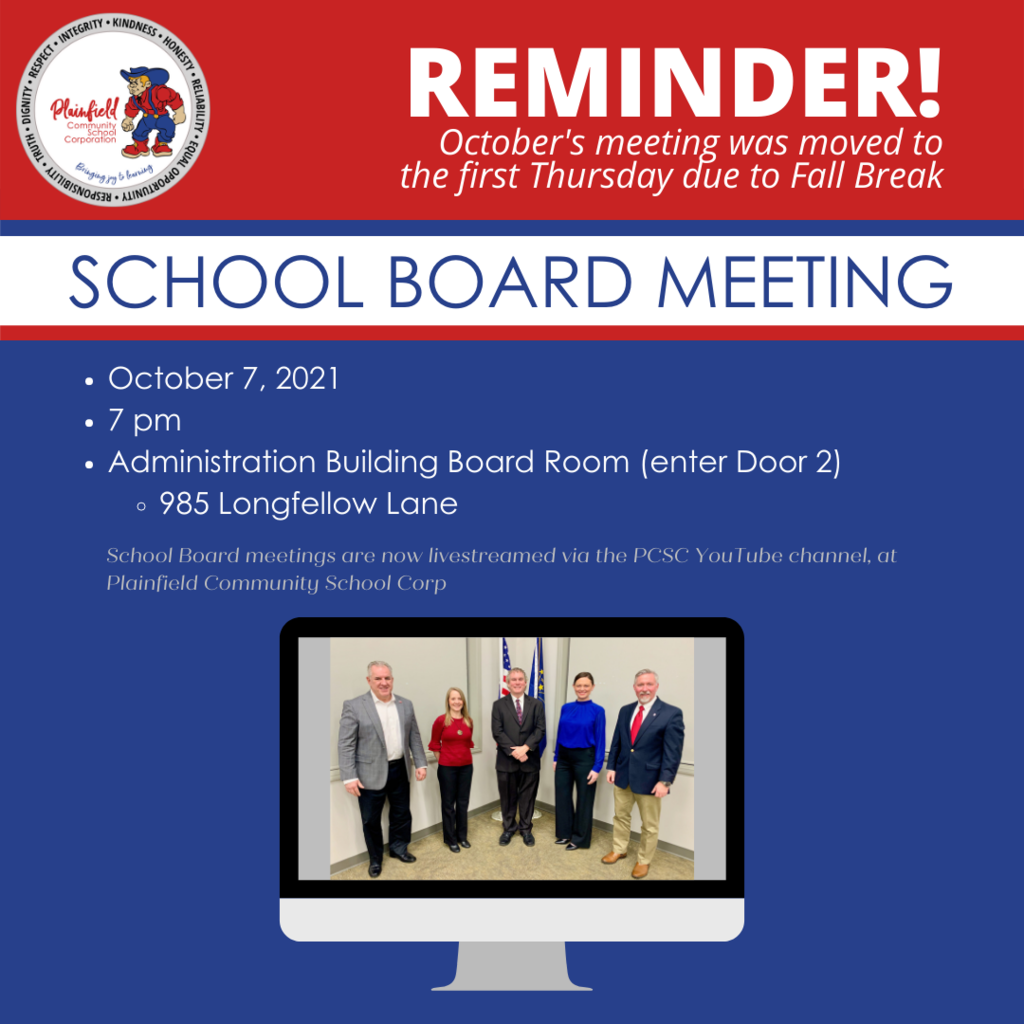 District administrators love being invited to assist in classrooms. Today, Asst. Superintendent Mr. Wolfe (he oversees budgets and operations) ran Mrs. Carter's classroom store, with the lesson "Interest free loans for good behavior!" What a great way to spend a Friday afternoon.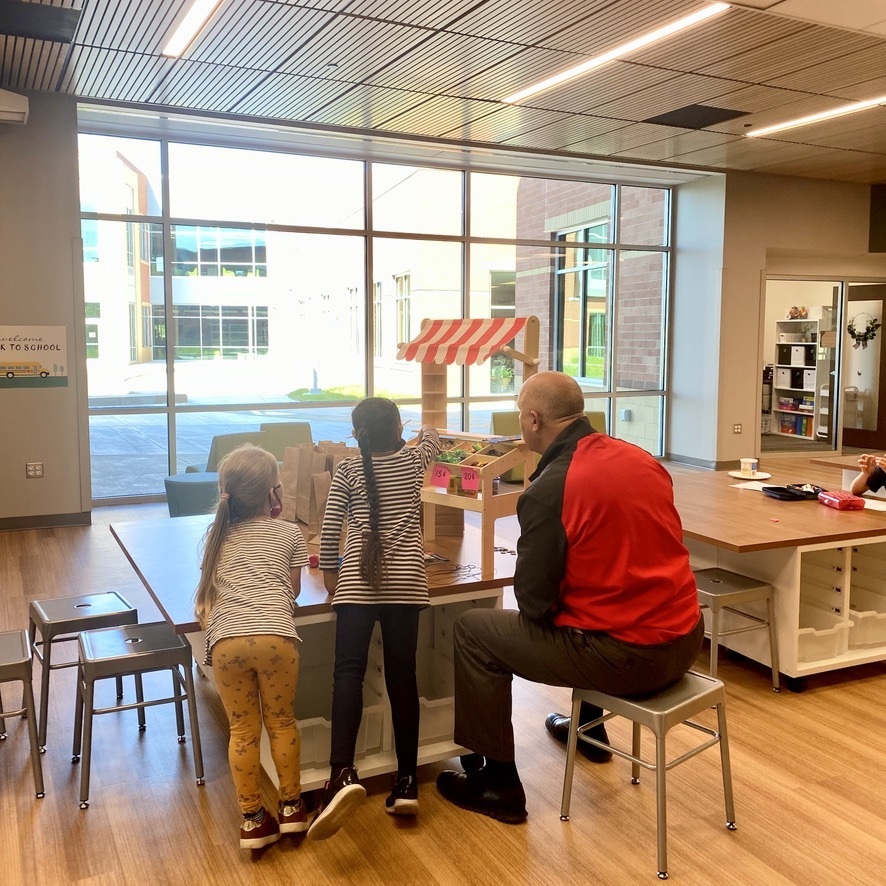 Today is the final day of College Go! Week, and at PHS, the teachers are sporting their gear! From IU to Purdue, Indiana State to Ball State, Hanover to Franklin, Trine to Taylor, plus IUPUI, The Herron School of Art & Design, Butler, UIndy, Ohio State and Michigan State, DePauw and probably one or two more that I've missed, these outstanding educators have earned their stripes, and we thank them for every ounce of knowledge and passion they pour into their work. #GoQuakers!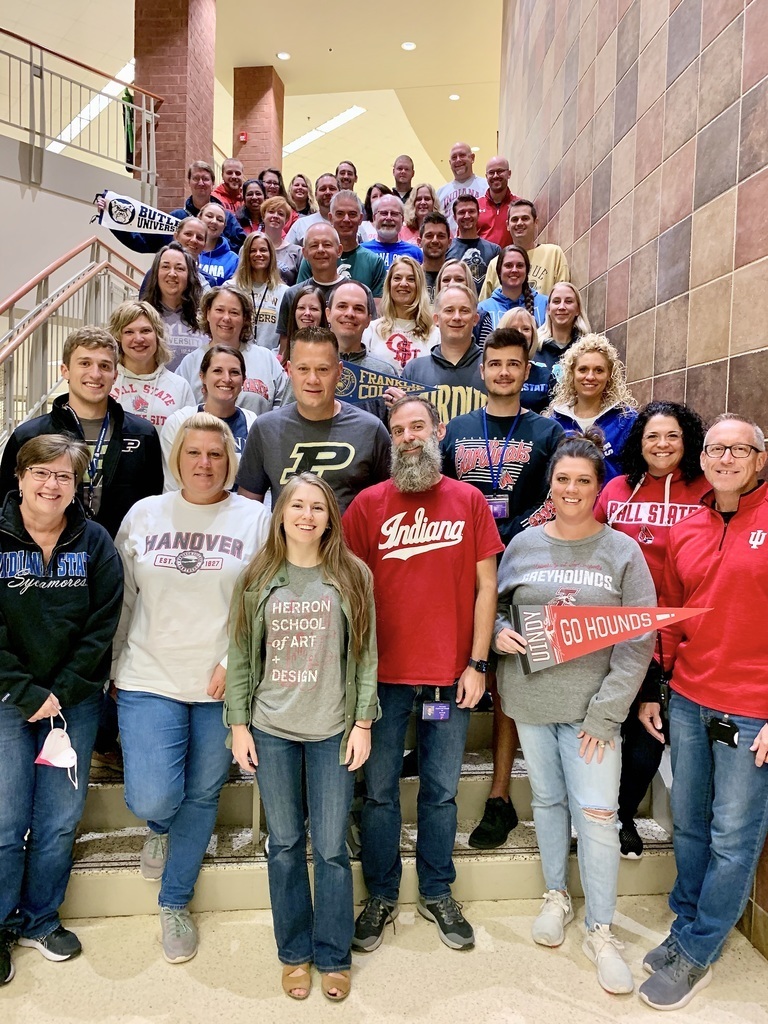 Quaker Conversations will take place Monday, October 4 at 6 pm in the Administration Building (985 Longfellow Ln). This is an opportunity for the public to ask questions of school administrators and the school board. Please enter Door #2.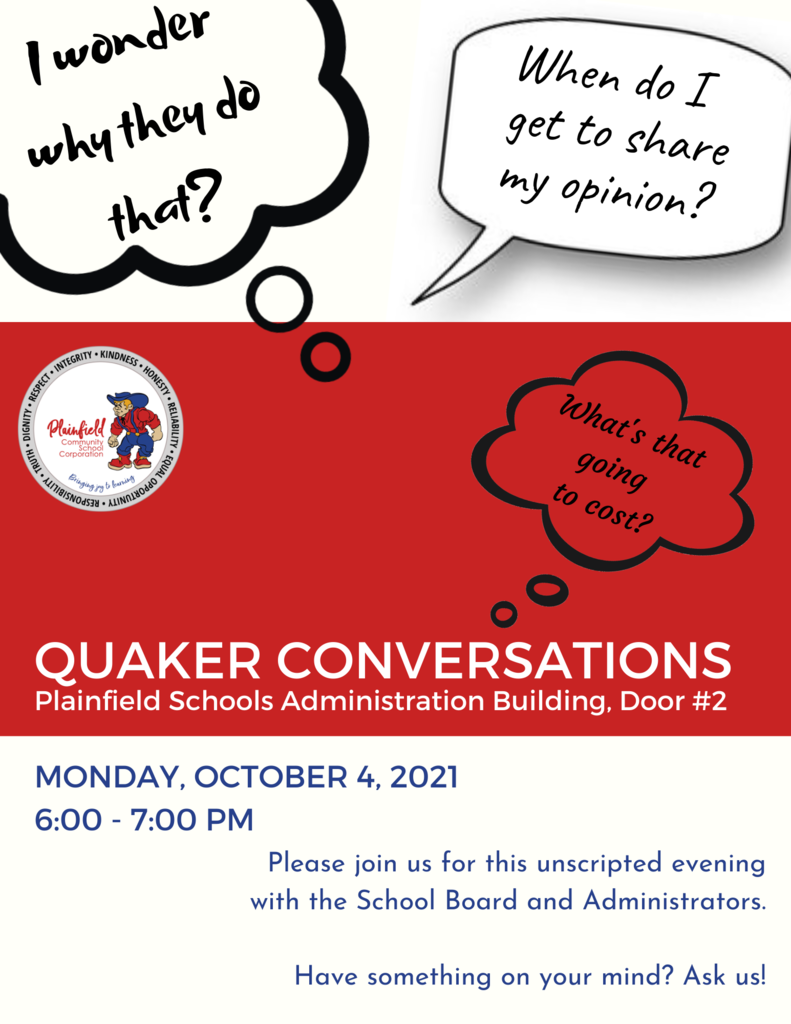 At its last Board Meeting, the School Board approved the transfer policy for the 2022-2023 school year. Key points: transfer students will be accepted for all grades and applications will be accepted from February 1 - June 15. Details:
https://www.plainfield.k12.in.us/browse/5231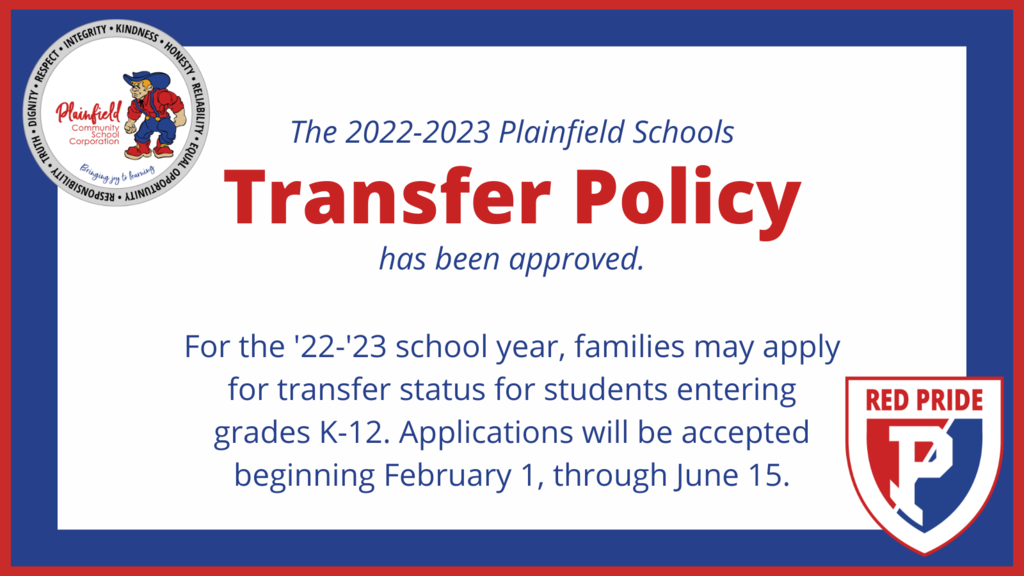 FYI to our retired teachers - we are postponing the upcoming breakfast until Spring. Stay tuned for more details in the coming months!