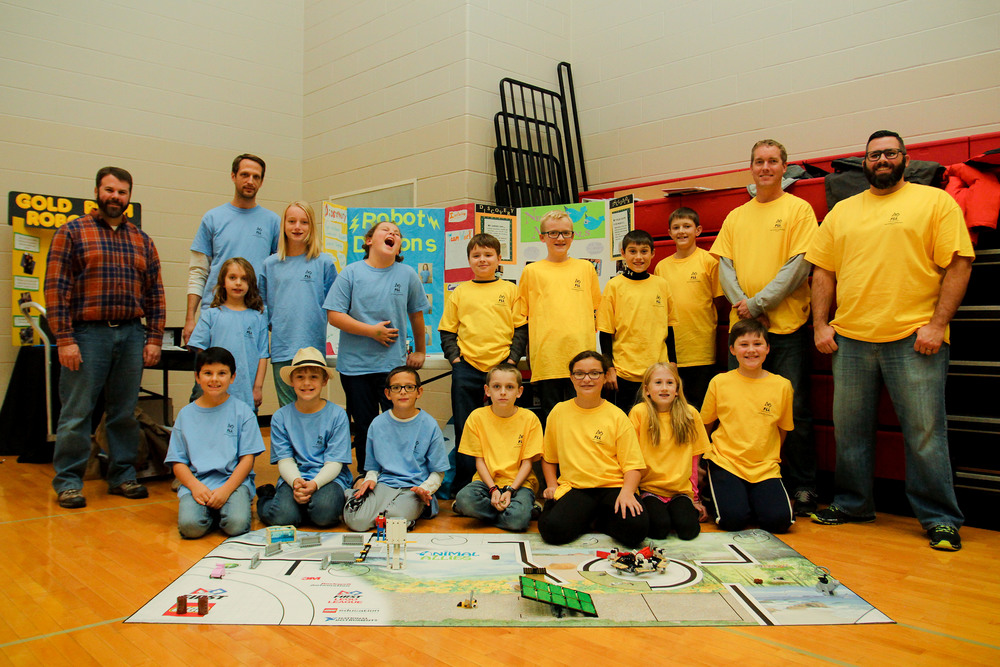 Van Buren Students Participate in Robotics Competition
Laura Shinn
Monday, November 14, 2016
Two teams of 4th and 5th grade students from Van Buren Elementary competed in a youth robotics competition Saturday. The competition was hosted by Center Grove Middle School North and was part of a regional event where teams competed to be selected to participate in the state tournament. Though neither team qualified for the state tournament, both teams received high praise from judges in what was the school's first appearance at a sanctioned competition in the growing community of youth robotics.
[PHOTO CAPTION: Van Buren Elementary sponsored two teams, the Nerdy Narwals (Yellow) and the Robot Dragons (Blue), who participated in a FIRST LEGO League robotics competition on Saturday at Center Grove Middle School North. ]
The robotics league is operated by FIRST, an international youth organization that sponsors four separate levels of robotics starting from Kindergarten through High School. FIRST is an acronym for 'For Inspiration and Recognition of Science and Technology' and is the brain child of famous inventor Dean Kamen who introduced the world to the Segway device. The organization was established to promote interest in STEM (Science-Technology-Engineering-Mathematics) educational activities and offer opportunities for students to take part in team focused competition events.
The competition level for the Van Buren teams is the FIRST LEGO League (FLL) and represents a partnership formed between the FIRST organization and the LEGO Group. Participation ages range from upper elementary grades through middle school. Teams spend a 10-12 week season preparing for an all-day event that includes creating displays, giving presentations, and culminates in a 'table game' where student constructed robots compete to tally as many points as possible in a two & a half-minute period, all running off computer programs created by the teams. Students are scored for all aspects of the event and top teams advance.
Each competition year establishes a Challenge theme where students are tasked with identifying a problem that exists in the world and proposing a solution. This year's Challenge was entitled Animal Allies and encouraged students to tackle problems about how humans can co-exist better with the animal population. Teams must spend part of the season researching the Challenge to incorporate their offered solution into their competition presentations.
Ray Helmuth, Principal at Van Buren, encouraged parents to start a program for his students in 2015. He shared, "We were motivated to offer our students opportunities to participate in STEM activities. Combining Lego and robotics immediately drew a lot of attention from our students."