Mr. Olinger made a whirlwind tour of all Plainfield schools this morning, sharing joy in the form of numerous awards along the way.
The Indiana Department of Education has recognized school food service programs for raising the bar on nutritional quality and freshness of menus offered to school children, with a special emphasis on doing so during a global pandemic. In their letter of congratulations, they noted that our food services team, led by Director Kelly Collins, included a wide variety of colorful menu choices that included fresh fruits and vegetables, and a mix of hot and cold entrees.
While Mrs. Collins was honored at last evening's school board meeting, Mr. Olinger presented each school cafeteria manager and her team with their own award this morning, emphasizing his appreciation for the extra miles they've gone in adapting to the many challenges we've faced in the last 12 months.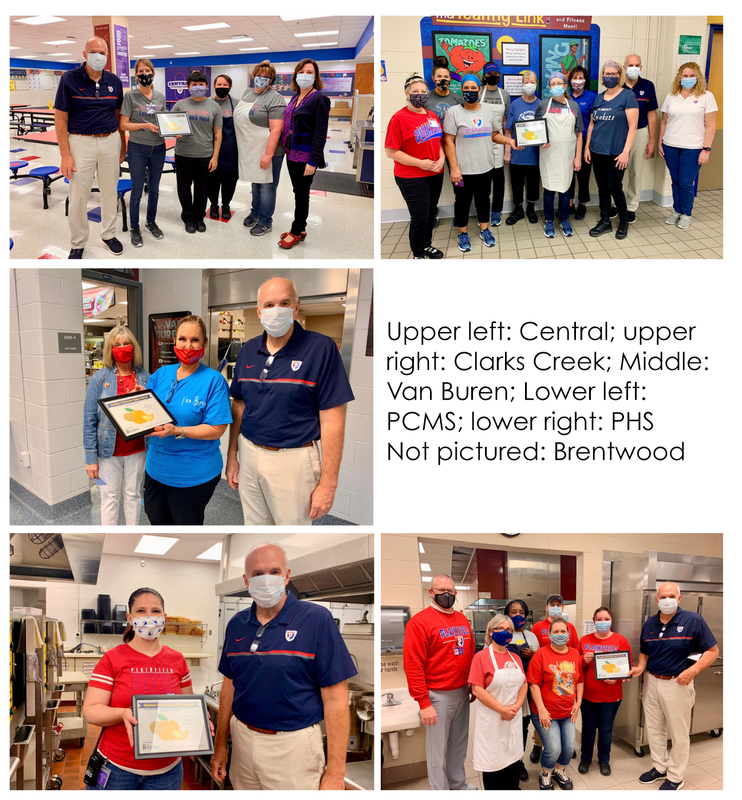 Also last evening, Mr. Olinger read the nominations for our six Community Value award winners. The March community value is reliability, and this morning we visited the classroom of each school's winning student, where their classmates, teacher and principal were able to help us celebrate their accomplishments.
And finally, we visited three very special teachers this morning, informing them they had been selected to represent their school/grade level in the district's 2022 Teacher of the Year program. In a few weeks, these three outstanding teachers will be interviewed after preparing an extensive portfolio. After that step, the Plainfield Teacher of the Year (2022) will be named, and will then move on to compete at the state level.
Finalists include:
Elementary - Courtney Carmichael, Central 2nd Grade Teacher

PCMS - Liz Giesting, 8th Grade Math Teacher

PHS - Liza Payton, High School English Teacher

Left: PCMS Principal Kyle Tutterow, Liz Giesting, Scott Olinger
Center: Scott Olinger, Courtney Carmichael, Central Elementary Principal Julie Thacker
Right: PHS Principal Mel Siefert, Liza Payton, Scott Olinger
We hope you will join us in celebrating these outstanding members of our Quaker community.
April 9, 2021