As we approach the August 4th first day of school (#FDOS) and the opening of a new school, we know there are many questions being asked or pondered by parents and students alike. So we're taking this opportunity to answer what we think you're wondering about, and maybe even provide some details that you haven't yet considered.
Will Guilford Elementary be finished in time for the first day of school? YES! While it may not look like it will be ready, the truth is that construction crews do amazing work in the final days of any building project, and this won't be any different. We never expected that all of the grass and landscaping would be finished on August 4th, but the inside of the school will be ready, and that's the most important part!
Above: 4th grade classroom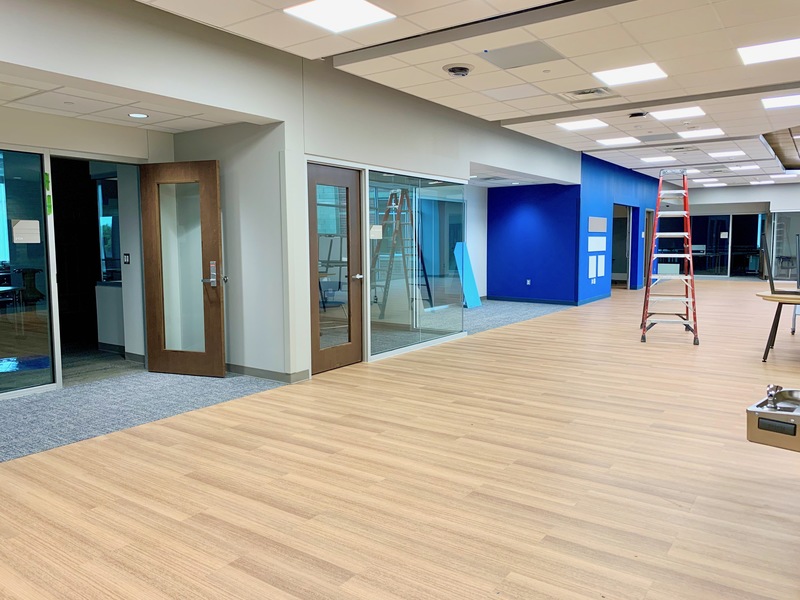 Above: 5th grade community

Above: panoramic view of restrooms, drinking fountain and bottle filler, which will be present in every community (every grade level area). NOTE: while drinking fountains and bottle fillers may appear short for 5th graders, they are installed based on ADA compliance!

Above: panoramic view of upper hallway, starting with 5th grade on the left, moving across the north side of the school and showing the view down into the Discovery Center in the middle.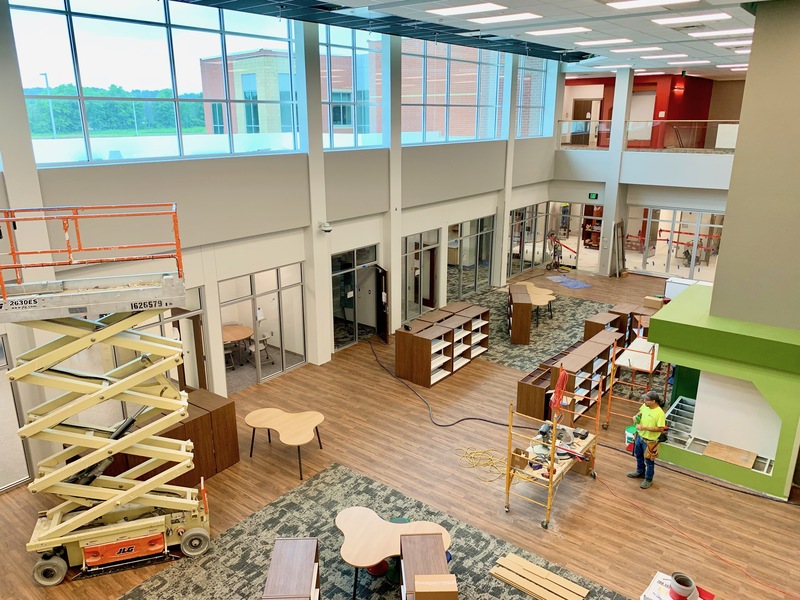 Above: Looking down into the Discovery Center, which includes Art, a Green Room and Music across the back of the space. Reading nooks are built into the walls to encourage students to curl up with a good book, or work collaboratively.

Above: An end-to-end view of the 3rd grade community. Each community has been built for six classrooms per grade level. For now, four classrooms have been furnished and we anticipate using three classrooms per grade level on August 4th.

Will teachers have time to set up their classrooms? Yes! In fact, and we probably shouldn't say this out loud, but it is highly possible that our Guilford teachers will have a few days longer than some of their PCSC colleagues have had in recent years following summer renovations. There will undoubtedly be adjustments as everyone settles in and lives in the space, but teachers will work their magic and classrooms will be ready.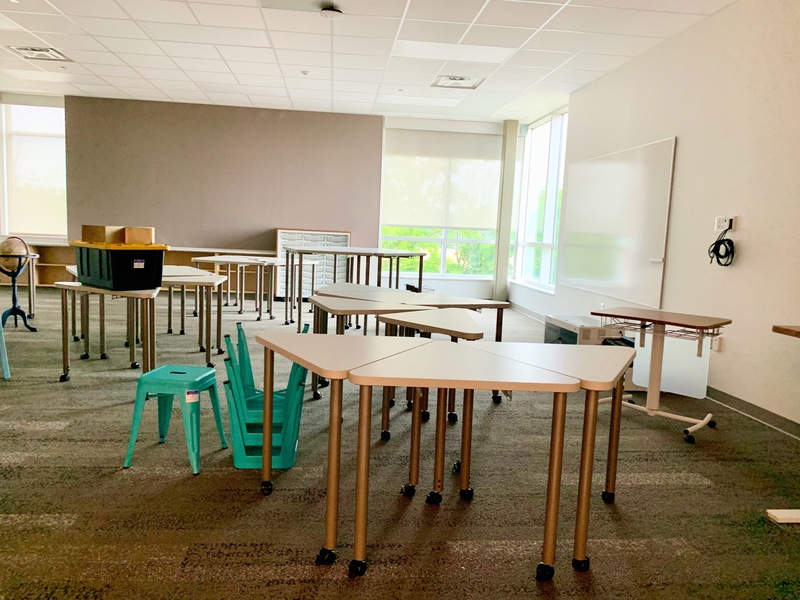 Above: Once the Fire Marshal has give us the nod, the hundreds (or more?) boxes packed by teachers in May will be moved into the appropriate classrooms at Guilford. This is a 5th grade classroom.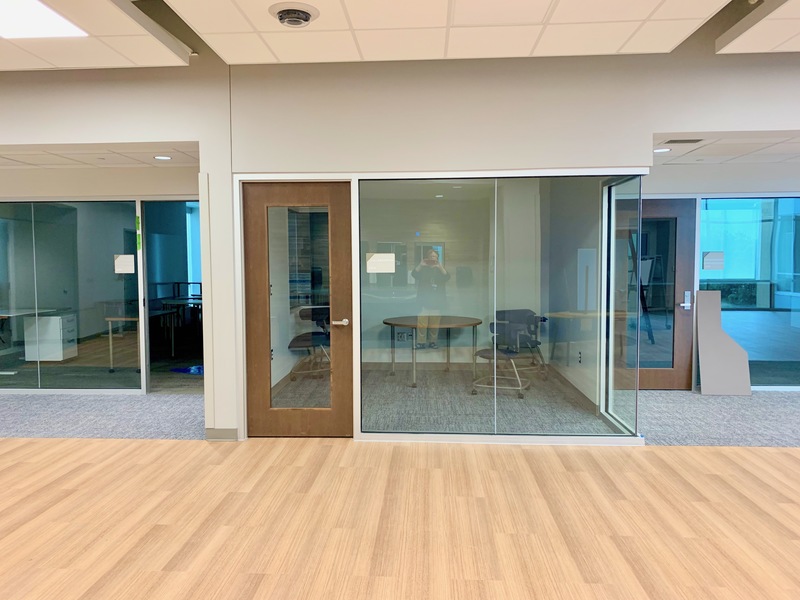 Above: Each classroom shares a collaboration space with a neighboring classroom, so students have plenty of space to move around, work on projects but do so all within the watchful eye of their teacher.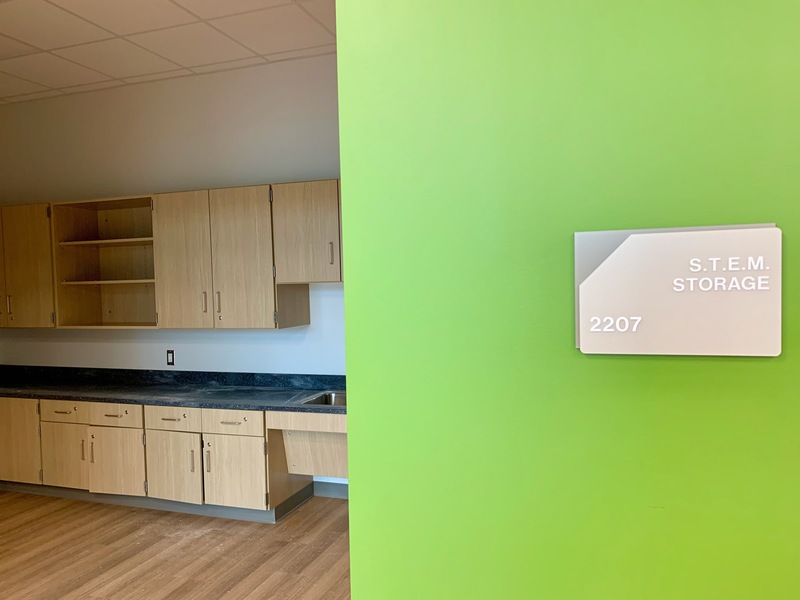 Above two photos: Each community has its own STEM storage and workspace, including a sink, plenty of accessible storage, and overhead door for larger equipment and student projects.

How soon will you announce important dates like supply drop-off? We have already identified the many important dates that come with the beginning of a school year, but until the construction site is turned over to the school corporation and released by the Fire Marshal, we cannot share those details. We remain confident that everything will happen as we've planned, and we hope to be able to share those dates with you in the coming week. We anticipate holding parent nights after August 4th, but hope to have supply drop-off before the 4th. If time allows, we will make you aware of opportunities to tour the building prior to the 4th.
When will I learn who my child's teacher will be? There are a couple of important pieces to this answer, so please read carefully.
Guilford students are not yet set up in PowerSchool because the state has not yet assigned the official Indiana school ID number for Guilford. This is holding up many of our own processes, and we are ready to jump to work as soon as they give us that number.

If someone has told you who your child's teacher will be, please remember that nothing is final until even a few days after the beginning of the school year. Many factors can affect whether or not we need to move students around once the year begins, so we always caution families not to get too eager to discuss teacher assignments.

Plainfield Schools does not accept requests for teacher or classroom assignments.
When can I sign my child up for YMCA before- and after-care? We have been working closely with the new regional director of the YMCA's before- and after-care programs, and we are thrilled that they will offer a site at Guilford Elementary. If you'd like to register your child for this service, you can find it here: https://indymca.org/youth-development-center/program-location/guilford-elementary/ The site currently lists our Administration Building as the address, but we assure you, the program will be held at Guilford Elementary.
Will my child receive a letter from their teacher before August 4th? Yes, teacher letters have been written but (noticing a theme here?) until we are assigned our school ID number, we can't access the data files to send the letters. Again, we continue to be assured by Indiana's Department of Education staff that the number will be assigned within the next few days. Also, please remember that in very rare instances, we may need to adjust class assignments up through the first few days of school.
What will the first day of school look like? The first day of school is filled with excitement, nerves, uncertainty, and even more excitement. When that first day takes place in a brand new school, all of the emotions are amplified … for everyone involved! We will attempt to anticipate as many questions as possible, but feel free to let us know what we've missed!
How will we know which entrance to use? There are two entrances into the parking lot from Moon Road. During drop-off and pick-up, one will be used exclusively by school buses, while the other will be for car riders. These entrances will be clearly marked along Moon Road and with diagrams that we will share as we get closer to the first day.

Car riders will enter the school through the main entrance, Door 1.

Bus riders will enter the school from a secure entrance on the back of the school, where staff will guide them directly to the proper entrance.

How will my child find their way once inside the school? Guilford Elementary was designed so that each grade level is grouped by community, and each community features design and graphic elements featuring a unique color.

For security reasons, parents are not permitted to walk students into the building. We will have plenty of staff available to greet students and assist them in getting to their classrooms.

Students in grades K-2 will receive a colored sticker matching the color of their grade level community. Please have your child wear this sticker on the first day of school. This will help staff direct students to the correct community.

From the bus entrance, colored dots will lead students to their community.

For the first week of school, buses will dismiss riders by grade level, making it even easier to get to their community.

If your child will be a car rider, use this link to request your car tag now. This is part of the process we use to ensure the secure release of students at the end of the school day. Please only sign up for a car rider tag if your child will be a car rider each day. If your child will ride the bus on most days, you do not need to sign up for a tag but will notify the front office on the days your child will need to be a car rider. Each family will receive two car tags and these will be mailed prior to school starting if you have completed this form. 2021-2022 Car Rider Tag Sign-Up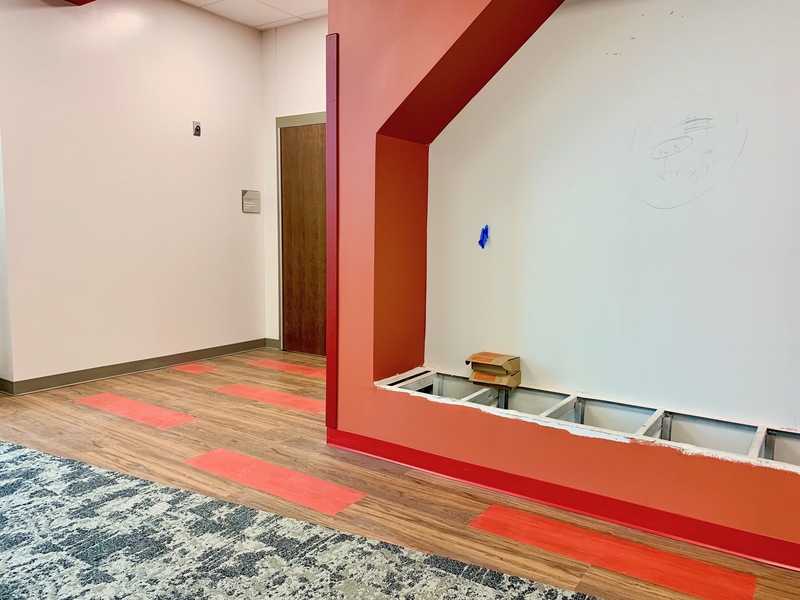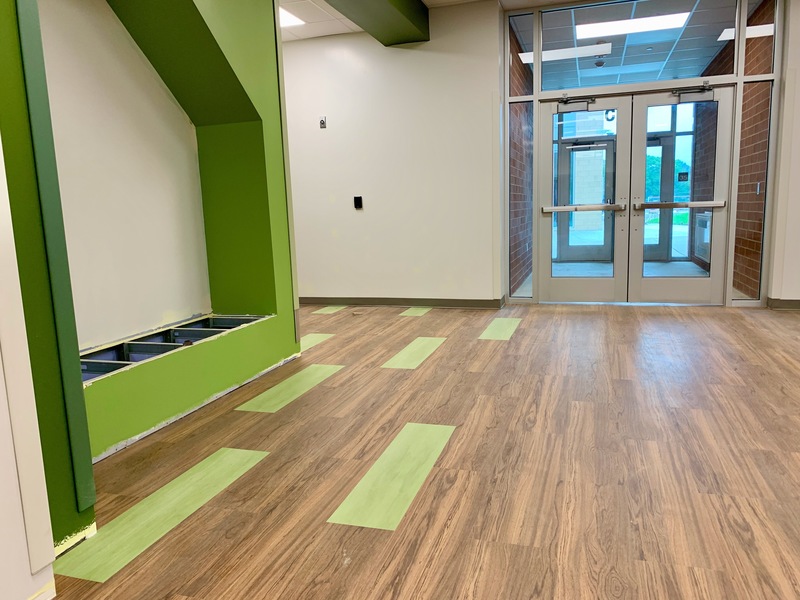 Above three photos: grade levels, or communities, are designated by the use of color, including colored strips built into the floor and entrances. For younger students (grades K, 1, 2), the colors will match the stickers they receive to wear on the first day of school.

What are the school hours? Guilford Elementary will follow the same school day schedule as the other Plainfield elementary schools. Doors will open at 8:30 a.m., and the bell rings at 8:50 a.m. Dismissal is at 3:50 p.m.
What will be your primary way of communicating with the Guilford Community? ParentSquare is the tool that we use throughout Plainfield Schools to share mass communications. There are many examples of how we use it:
District-wide messages from Superintendent Olinger and/or other administrators

Messages from Mrs. Perry

School delay or early release alerts

Emergency alerts when we need to issue a secure lockout of the school or all schools

Messages from teachers
One feature of ParentSquare is that it allows you to choose how you prefer to receive information from Plainfield Schools. No matter what you choose, or if you do nothing, as long as we have a viable email address in PowerSchool for a student's parent or guardian, they will receive these messages to the email account on file. But if you'd like, you can choose to receive messages via text message or as a notification on the Parent Square mobile application. It also allows you to choose from a lengthy list of languages that will translate messages for you.
Once we receive our school ID number, we will share with you the details on setting up your account in ParentSquare. If you already have an account, you will not need to make any changes!
What should we know about breakfast and lunch at school? Our website includes very detailed information about our meal program (https://www.plainfield.k12.in.us/page/new-food-services) and it will be updated over the next week or two as our Food Services team prepares for the new school year. However, there are a few key points we want to be sure you're aware of before August 4th.
Food Allergies. If your child suffers from food allergies, we are prepared to help ensure they enjoy meals that are both safe and nutritious. Please complete the correct forms (linked below) and return to Kelly Collins, Director of Food Services at kcollins@plainfield.k12.in.us. If you have any questions regarding the forms please call Kelly at 317-839-2578.

All school families will receive a ParentSquare message from Kelly Collins, Director of Food Services, prior to the beginning of the school year. Her letter will explain the many programs available to school families, including the extension of USDA's temporary federal food program that now runs through June 20, 2022.

While all students are eligible for free meal components, completing the free meal application may also qualify students to receive free textbook rental. The application can be downloaded at this site, www.lunchapp.com, or picked up at school later this month.

Many more details about our meal programs will be provided by Mrs. Collins

We don't have any updated photos of the cafeteria, gymnasium or YMCA space because they were working on the floors this morning. But those areas are just as beautiful as the rest of the school!
We will continue to add content to the Guilford Elementary web page, and we are working on the Facebook and Twitter accounts as well. Staff will not be able to work from the school until the Fire Marshal allows it, so the best way to communicate with us is via email. Once we can work from the building, we will publish the phone number. For now, Mrs. Perry can be reached at cperry@plainfield.k12.in.us.
While these last few weeks are hectic and a bit overwhelming at times, we remain overJOYed with appreciation for the ability to welcome your children as the first Guilford Elementary students. People are the heart and soul of any school, but we are incredibly fortunate to have such a beautiful, safe, well-planned building to call our school. We are confident you will share our pride.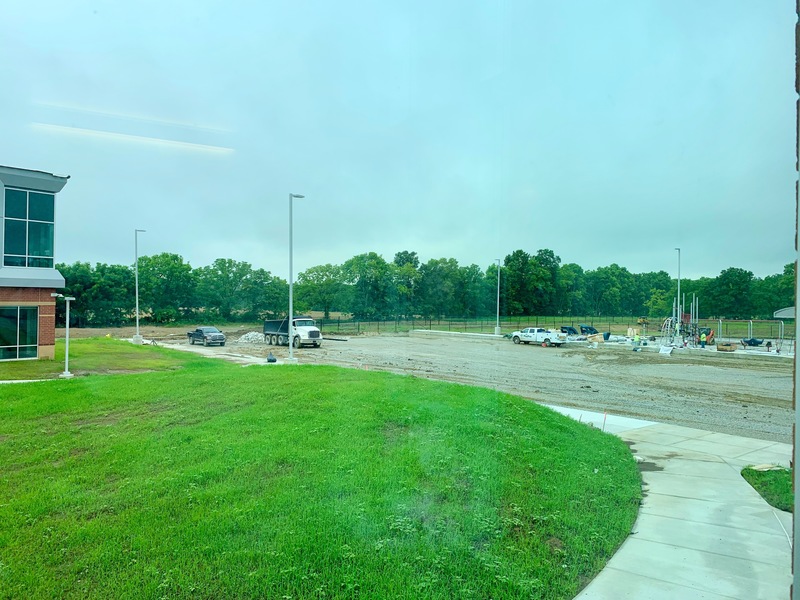 Above: From one of the upper windows looking into the back. The area closest to the sidewalks is the bus lane, while you can see just beyond the drive that workers are installing the playground equipment.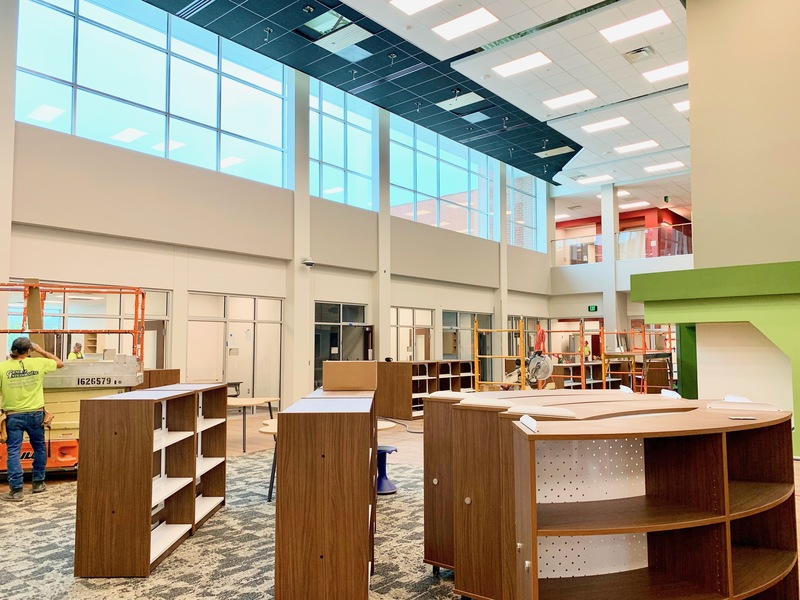 Above: The Discovery Center welcomes students and staff alike as they move throughout the school.

Above: Located next to the music classroom, students will have access to a green room where they can create their own videos and podcasts.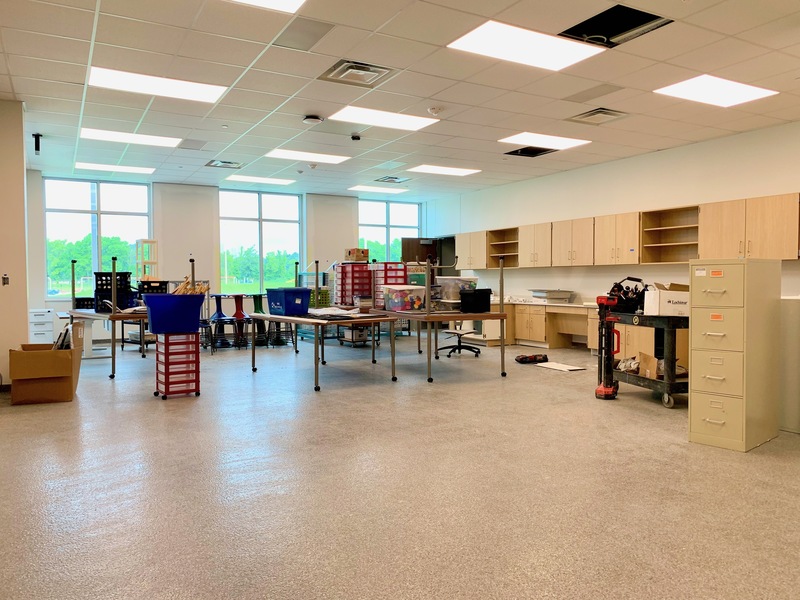 Above: The art classroom is spacious and filled with natural light, along with ample storage.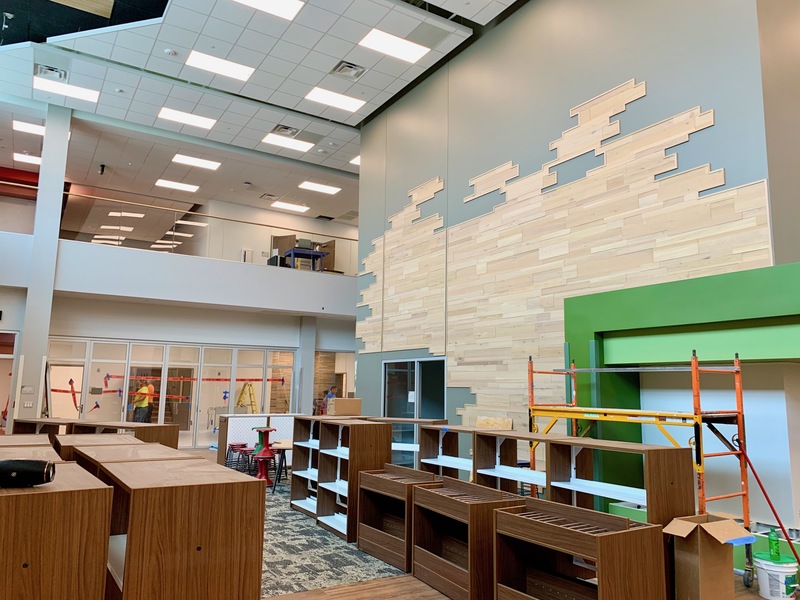 Above: Another view of the Discovery Center, including how open it is to the entire school.

Above: The front desk is almost ready to welcome visitors to the school.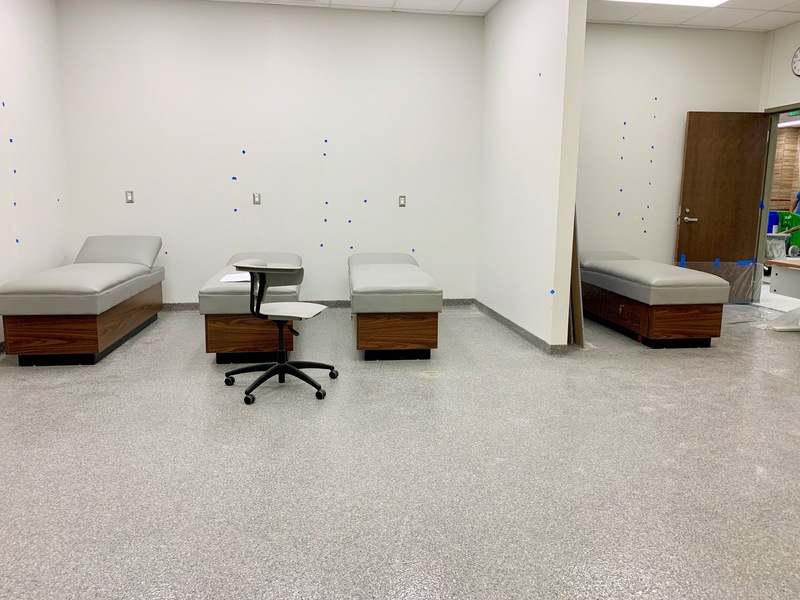 Above: Like all of our nurse's clinics now, the Guilford clinic is set up to isolate students who have a fever or could be contagious, while allowing the nurse to attend to all needs. Also, like all of our schools, Guilford Elementary will be staffed by a registered nurse who is employed by Hendricks Regional Health.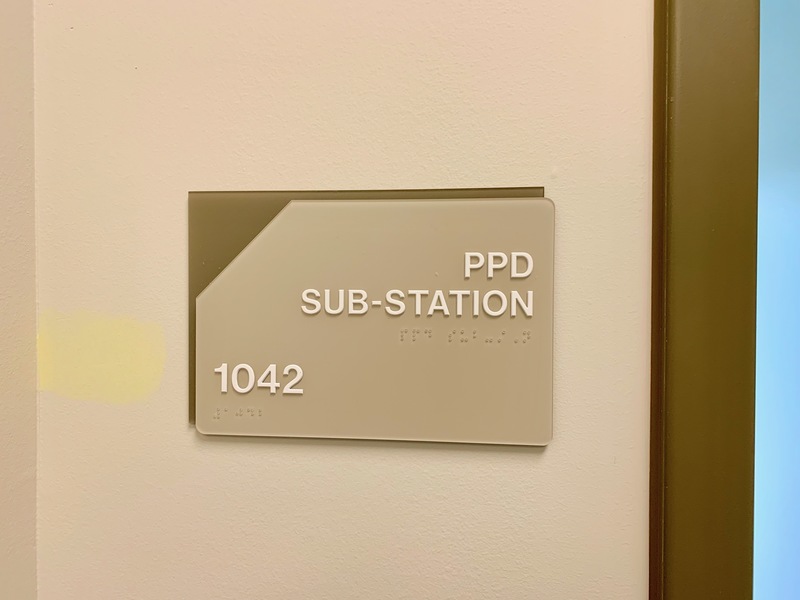 Above: In addition to a dedicated School Resource Officer (SRO), Guilford Elementary was built to include a remote substation for the Plainfield Police Department.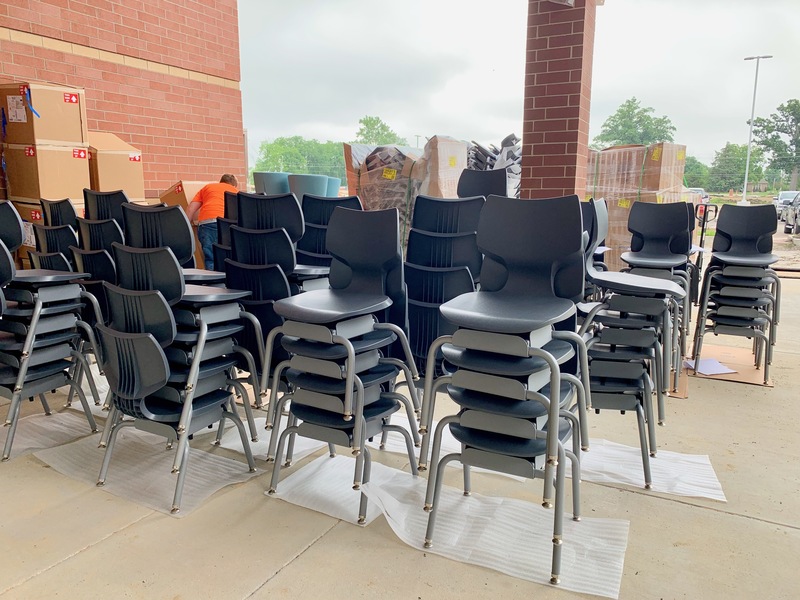 Above: Just this morning, more chairs were being unloaded and unboxed before being moved into classrooms!