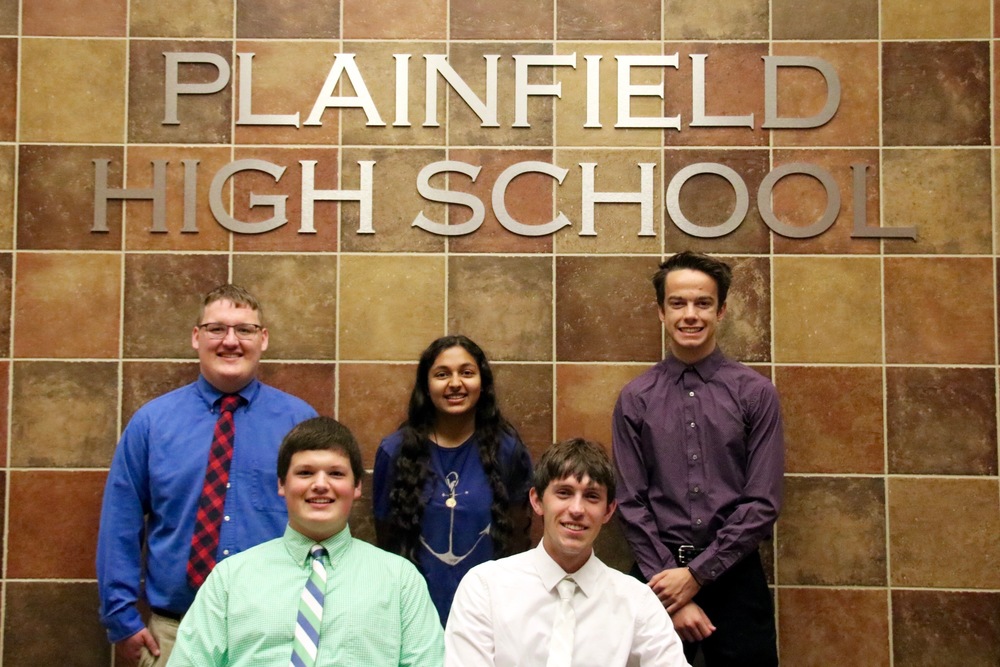 National Merit Scholars: Five Commended Students at PHS
Sabrina Kapp
Monday, September 25, 2017
Pictured in photo above, left to right: Dylan Miller, Maxwell Tetrick, Sidrah Badar, Daniel Zoss, Benjamin Crum
The National Merit Scholarship Corporation recently announced the Commended Students for this year, five of whom are students at Plainfield High School. They are
Sidrah Badar, who plans to study biology or chemistry,
Benjamin Crum, who is looking at some East Coast schools, as well as Butler and Purdue, with an interest in law, fictional writing, and computer engineering,
Dylan Miller, who plans to study chemical engineering,
Maxwell Tetrick, who plans to attend Purdue, and
Daniel Zoss, who will begin his pre-Law studies at IUPUI.
Commended Students are recognized for exceptional academic promise and outstanding performance on the qualifying exam. More than 1.6 million students nationwide took the 2016 Preliminary SAT/National Merit Scholarship Qualifying Test (PSAT/NMSQT) in October of 2016. Last spring, the 50,000 highest scorers were identified, while 16,000 of those will go on to compete for Merit Scholarships.
"It is an exceptional honor to be recognized by the National Merit Scholarship Corporation, and these students are outstanding representatives of the program," stated PHS Principal Mel Siefert. "But their contributions to our school, both in and out of the classroom, are what make them truly special students. Their passion and concern for others will serve all of us, well into the future."