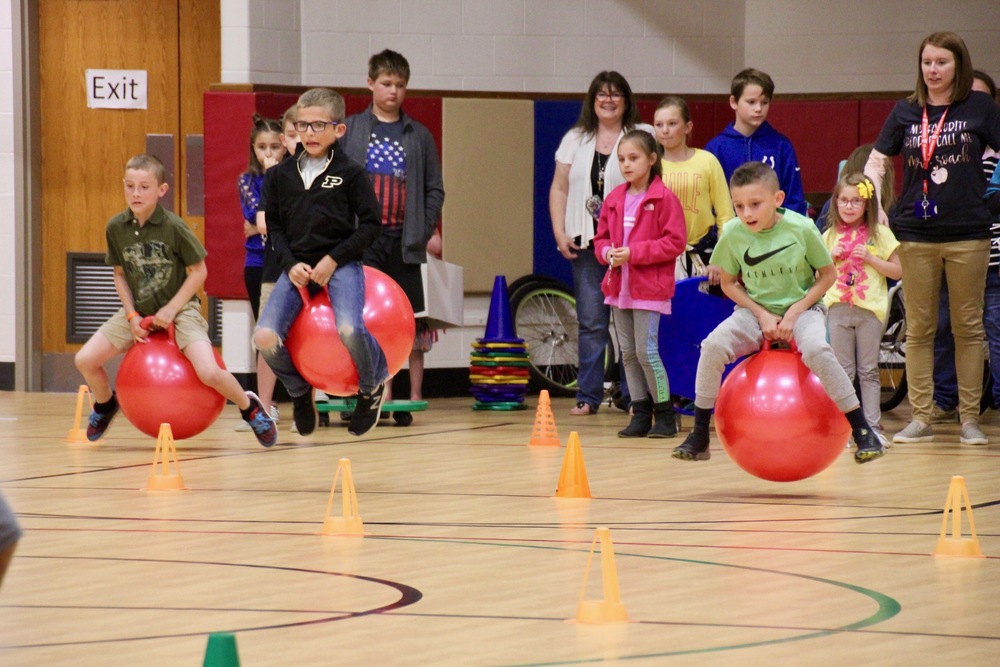 Celebrating Math Facts and Reading!
Sabrina Kapp
Wednesday, May 22, 2019
Early in the school year, students in Kindergarten through 5th grade at Central Elementary were given a challenge: meet their reading and math fact goals, and have the chance to participate in a very special program at the end of the year.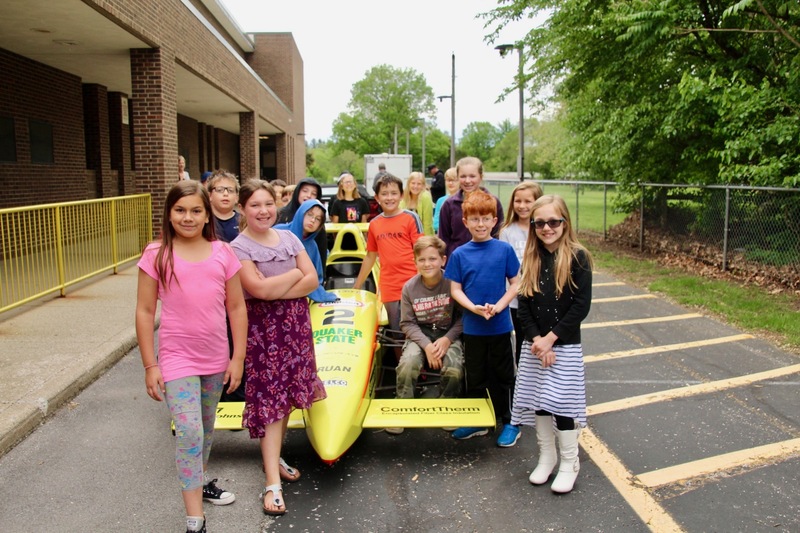 You might wonder why, especially at the elementary level, we place so much emphasis on reading and math facts. Because we know that students who are able to calculate math facts in their head, quickly and accurately, and who can read with an equally fast understanding of the material, are successful in middle school, high school, and into whatever their next path might be. Data backs it up, but we also see it with our own eyes.
And to be clear: students in all Plainfield elementary schools participate in reading and math fact challenges and earn recognition and events for doing so. It just so happens that Central students celebrated with a special guest yesterday, and it was all tied to a big event happening this weekend just a few miles from Plainfield.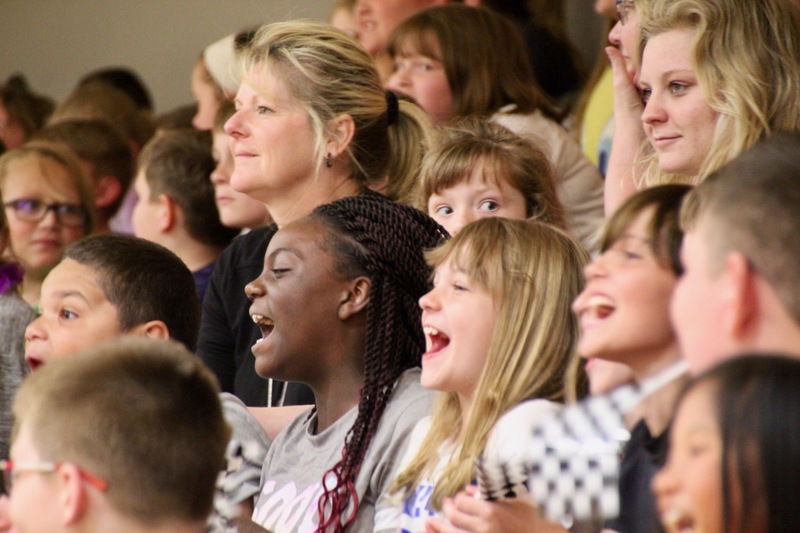 Early in the day, students had the opportunity to visit the school's bus lane for an up-close look at an Indianapolis 500 pace car and race car. Students asked great questions and marveled at how small the space is inside a race car. But this was just the opening act.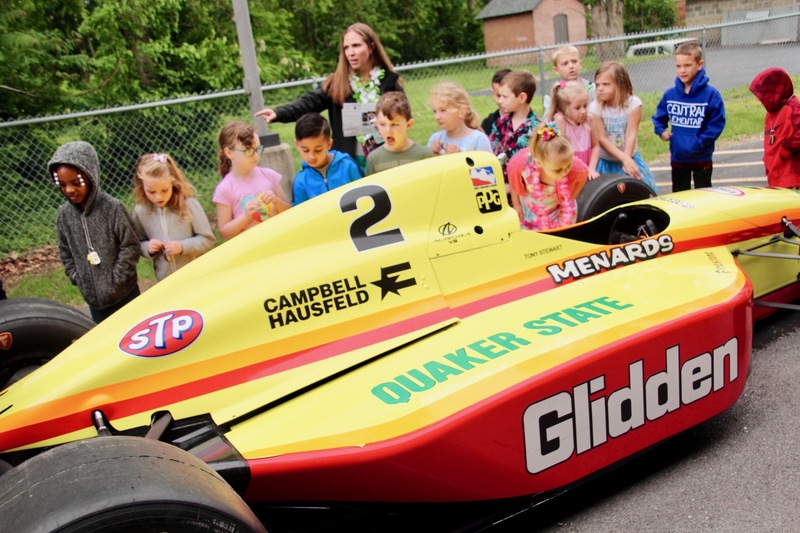 Race car driver. Racing team owner. Indoor karting track owner. Fastest female one-lap qualification run at the Indianapolis Motor Speedway. College graduate. Mother. Pace car driver at the Indy 500. These are just a few of the ways five Central Elementary students described Sarah Fisher in their wax museum portrayals of one of IndyCar racing's most well-known and beloved drivers. Those students were asked to read their essays in front of the entire school, and Sarah, during yesterday's convocation.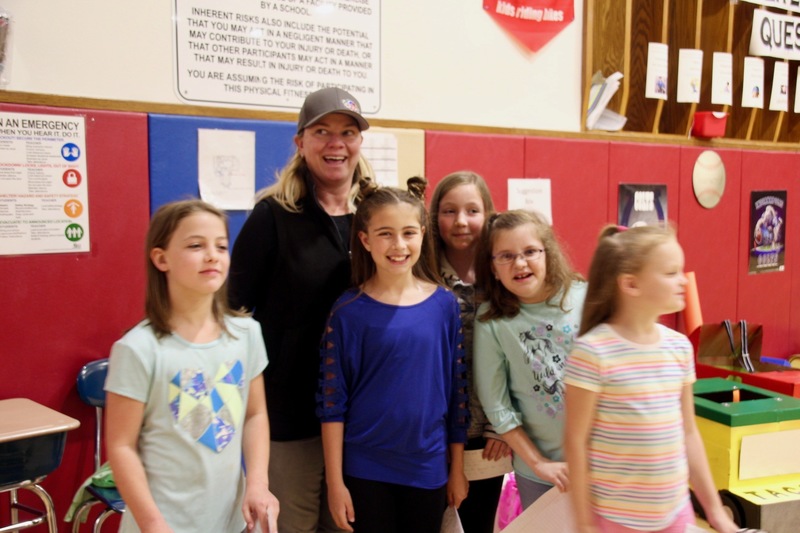 Following their accolades, Sarah took the microphone and talked about being a math and science geek, and about how those school subjects helped her find her way to success in racing. She encouraged students to continue working hard, even over the summer, but also to find their passion and pursue it with hard work, practice and determination.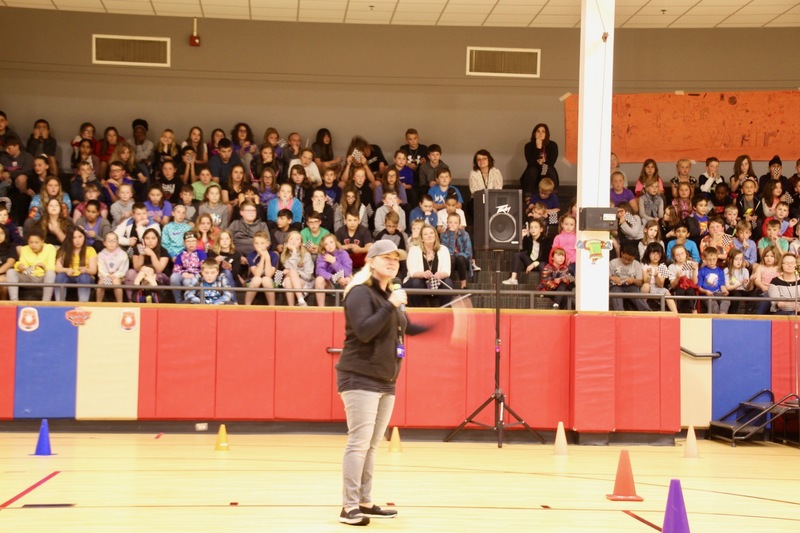 Next up? Two relay races featuring students from each grade who met their math fact and reading challenges. Selected at random from all students who met the challenge, the readers raced (using their Kindy500 cars), galloped, hippity-hopped and scooted through the course. Then the math fact students took part in their own relay, this time helping a teacher gear up in protective items used by IndyCar drivers: helmet, goggles, pads and gloves! Both events provided plenty of cheering by the students.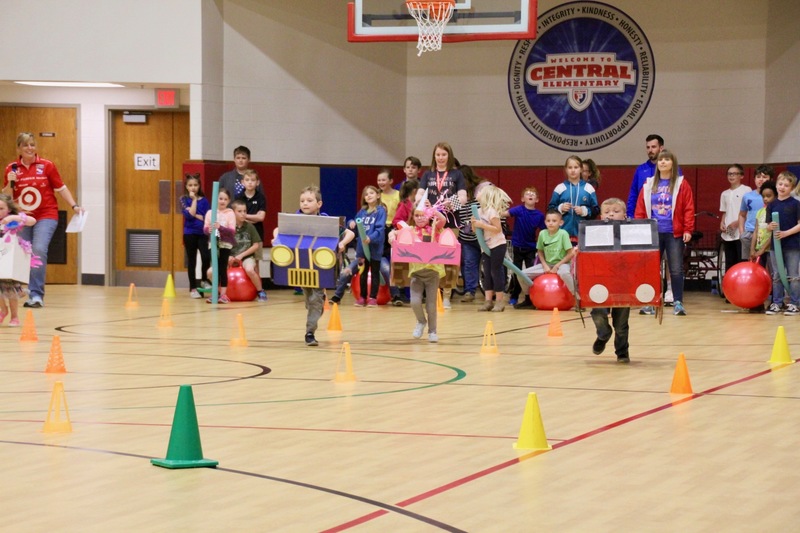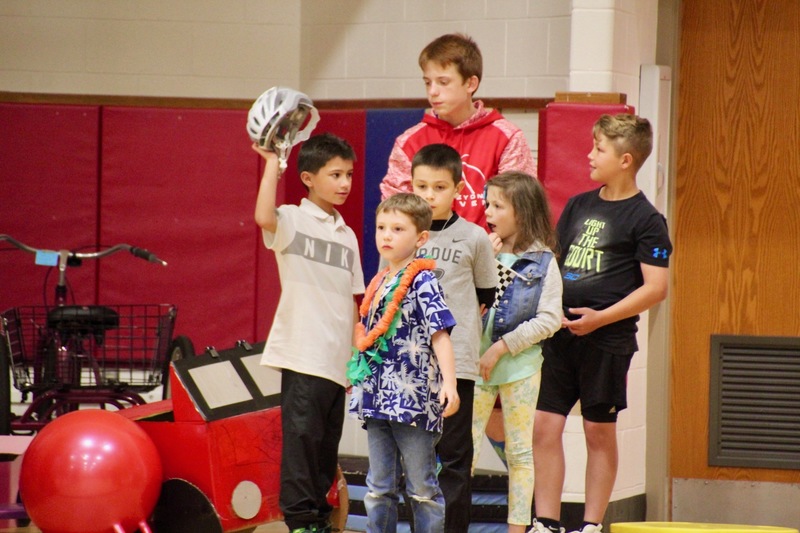 The final challenge, though, may have been everyone's favorite. Three two-person teams raced a tricycle, each "driver" making two laps around the gym floor. Team One? Sarah Fisher and Mrs. Thacker. Team Two? Mrs. Dickey and Mr. Wheeler. Team Three? Mrs. Roach and Mr. Pickard. As the drivers prepared for their race, the students came together in a roaring chant of Sarah! Sarah! Sarah! With a great start and the speed of Mrs. Thacker, and the expertise and experience of Sarah, Team One came away the winner, and celebrated with their own carton of milk!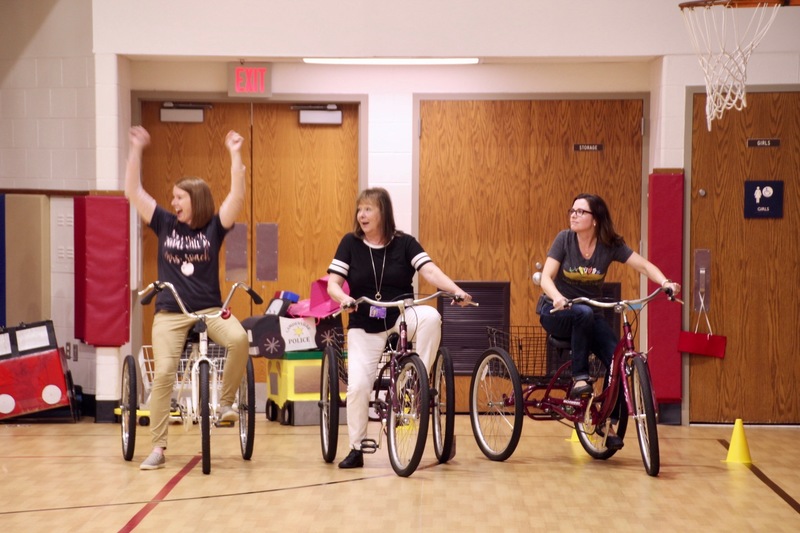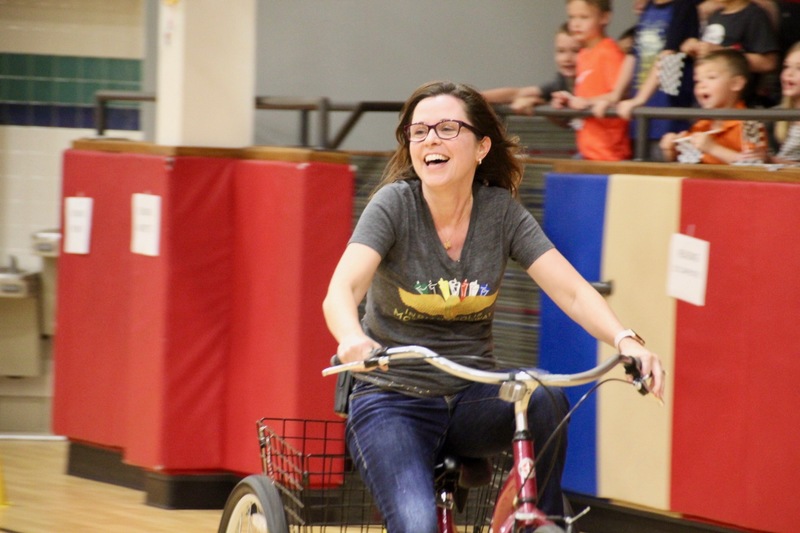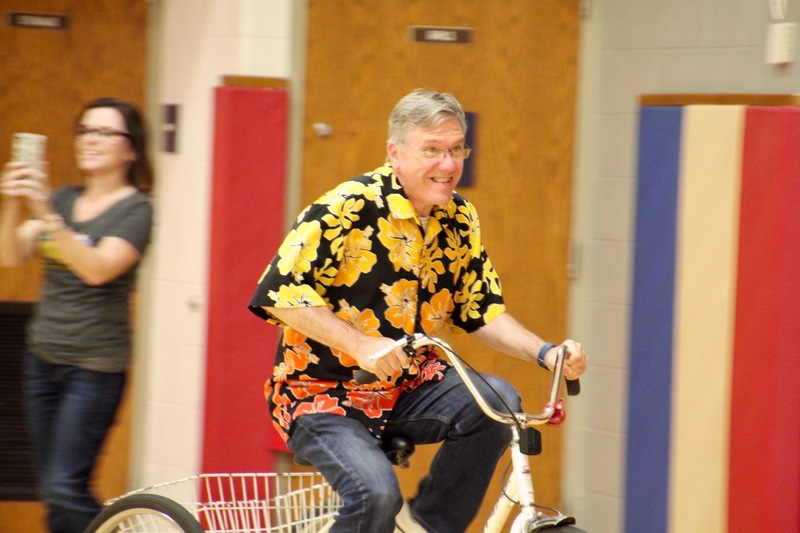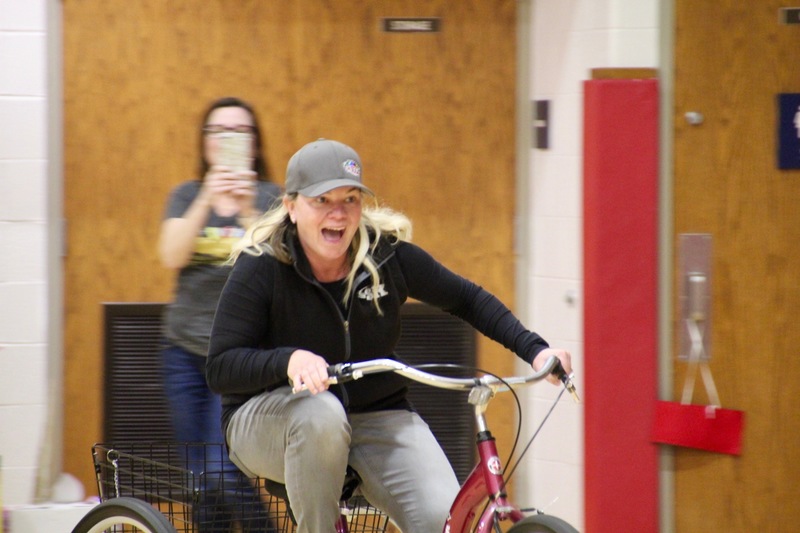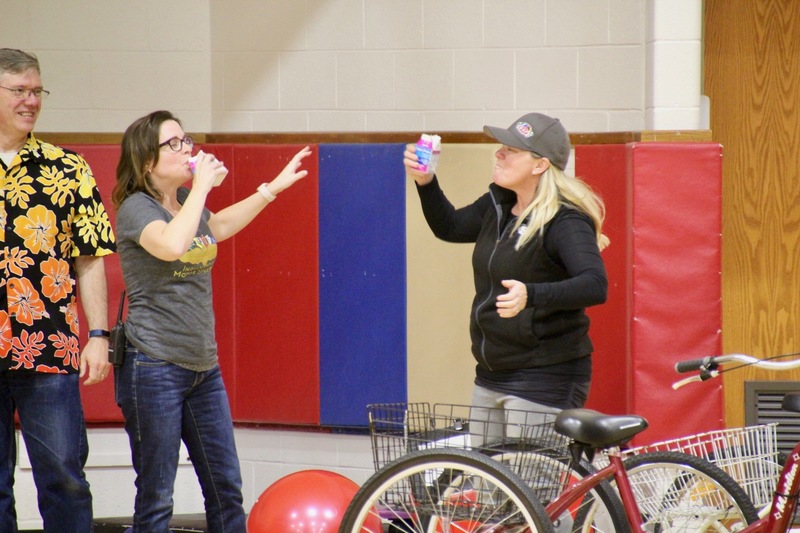 In the end, students are most likely to remember seeing a race car and meeting Sarah Fisher, and seeing their teachers race on a tricycle. But along the way, they've improved their reading comprehension and math facts, and that will serve them well for years to come.