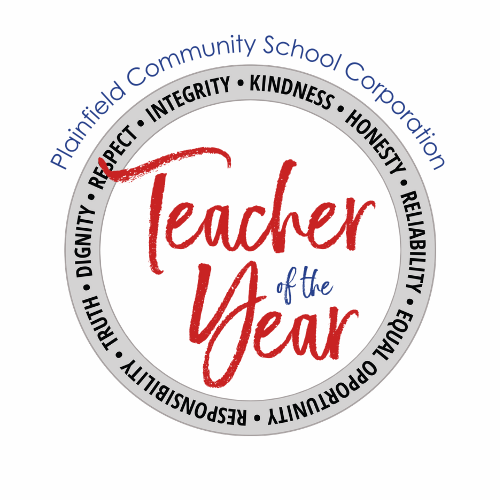 For a teacher, the respect of your students, their parents, and your colleagues is hard to top. For that reason, Plainfield's Teacher of the Year process includes nominations from staff, with the final selection committee made up of school and community stakeholders.
Due to COVID-19, Indiana's 2021 Teacher of the Year program was set aside, instead honoring all teachers throughout the state for their heroic efforts to pivot to online learning, practically overnight.
PLAINFIELD TEACHERS OF THE YEAR
2022 Liza Payton, PHS

2021 All Teachers

2020 Adam Ferguson, PHS

2019 Ann Mennonno, Clark Creek

2018 Brad DeHoff, PCMS

2017 Michelle Burress, PHS

2016 Jonelle Heaton, PHS

2015 Krissy Sullivan, Brentwood

2014 Susan Ament, PHS

2012 Natalie Boyer, Brentwood

2011 Andrea Birke, PHS

2010 Elizabeth Fisher, PCMS

2009 Judy Reed, Brentwood

2008 Chris Cavanaugh, PHS

2007 Joan Effinger, PCMS

2006 Susan Gabonay, Brentwood

2005 Teri Carpenter, PHS

2004 Larry Castor, PCMS

2003 Mary Winters, Van Buren

2002 Laurie Gatlin, PHS

2001 Jon Arvin, PCMS

2000 Teresa Walters, Van Buren

1999 Ray Saxman, PHS

1998 Martha Jennings, PCMS

1997 Nell Voelker, Van Buren

1996 Carol Kellogg, PHS

1995 Don Dones, PCMS

1994 John Chapin, Van Buren

1993 Jerry Hankins, PHS

1992 Kathy Owen, PCMS

1991 Pat Lilly, Brentwood

1990 Bruce Milburn, PHS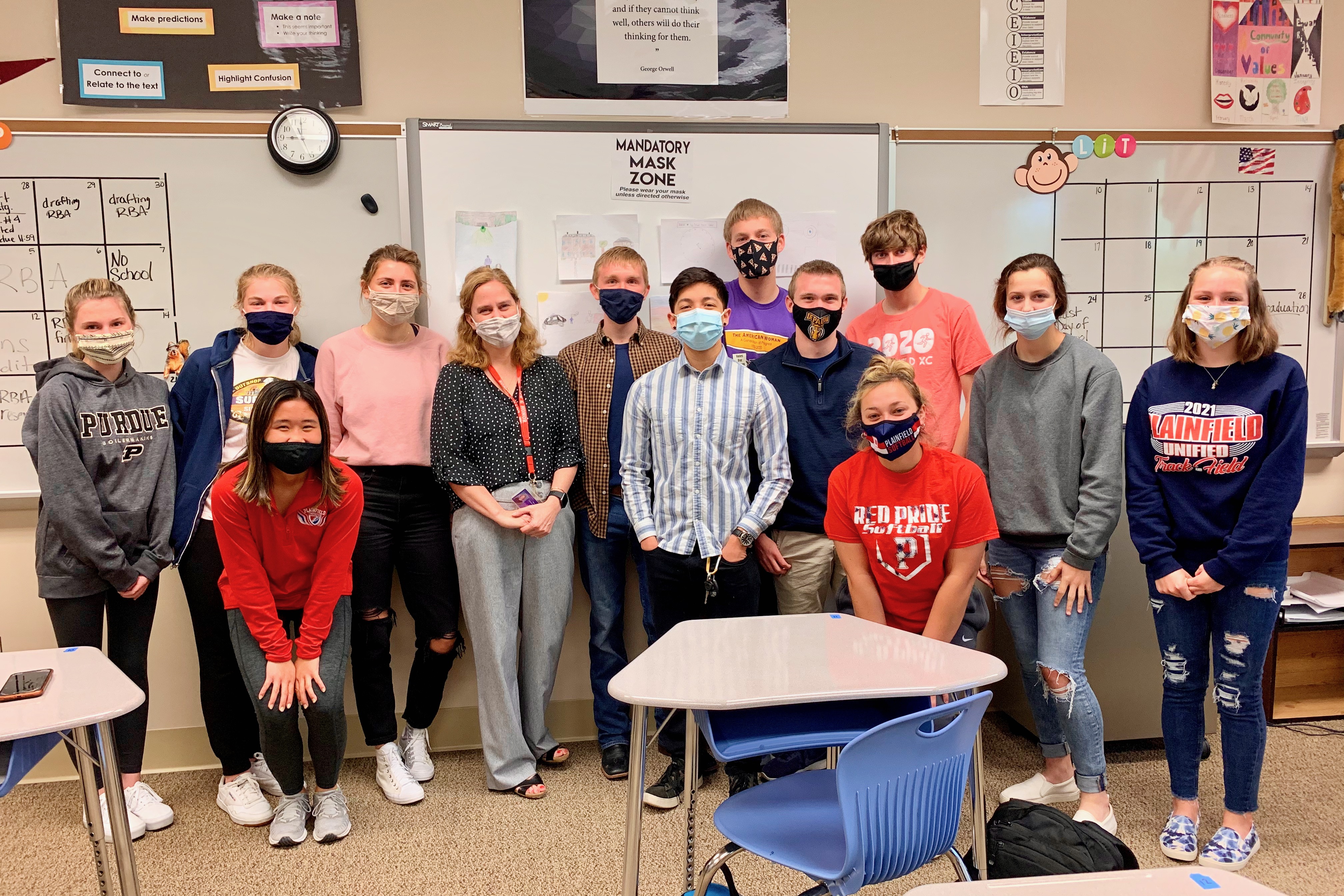 The standards and expectations for teachers are high in Plainfield. We hire the best of the best, and hold everyone accountable. So when it comes time for the Teacher of the Year process, there is no question that the person selected is truly an outstanding educator.
Earlier today, Superintendent Scott Olinger visited a classroom to share the news that PHS English teacher, Liza Payton, has earned the title of Plainfield Schools 2022 Teacher of the Year. From the reaction of her students, it's clear that they appreciate the significance of the honor and agree with her selection.
Liza left Pike Township for Plainfield in 2004. With wide-ranging courses that include Freshman Honors English, an English remediation course, to courses that focus on novels and etymology, and two AP courses plus a Dual-Credit Composition course (offered through Indiana University), Liza's strong, but quiet personality reaches many students every day.
With a philosophy that serious learning should be grounded in fun, interesting and engaging work, it's no surprise that her students look forward to class. Whether it's the annual March Madness Literature tradition, her creation of games to introduce problem solving, repetition and communication skills to the learning process, or her focus on communication and collaboration in the daily class experience, Liza shares her own love of learning with students.
Of course, classroom instruction and impact is a significant part of the Teacher of the Year consideration, but community service is also considered. Liza is the founding sponsor of the PHS Interact Club, which is related to the International Rotary program, and affiliated with Plainfield's Rotary chapter. Interact chapters must serve their local community, while also taking on an international service project. As the club sponsor, Liza's role is to allow club members to learn about leadership while making their own decisions, at the same time helping them understand the importance of scope and reality. Along the way, students and Liza have discovered that their capacity to meet big goals should never be underestimated.
Over the summer, Liza will complete the in-depth application to the Indiana Department of Education's state Teacher of the Year program, and all who know her have no doubt that she is an excellent candidate for the state's highest educator award.