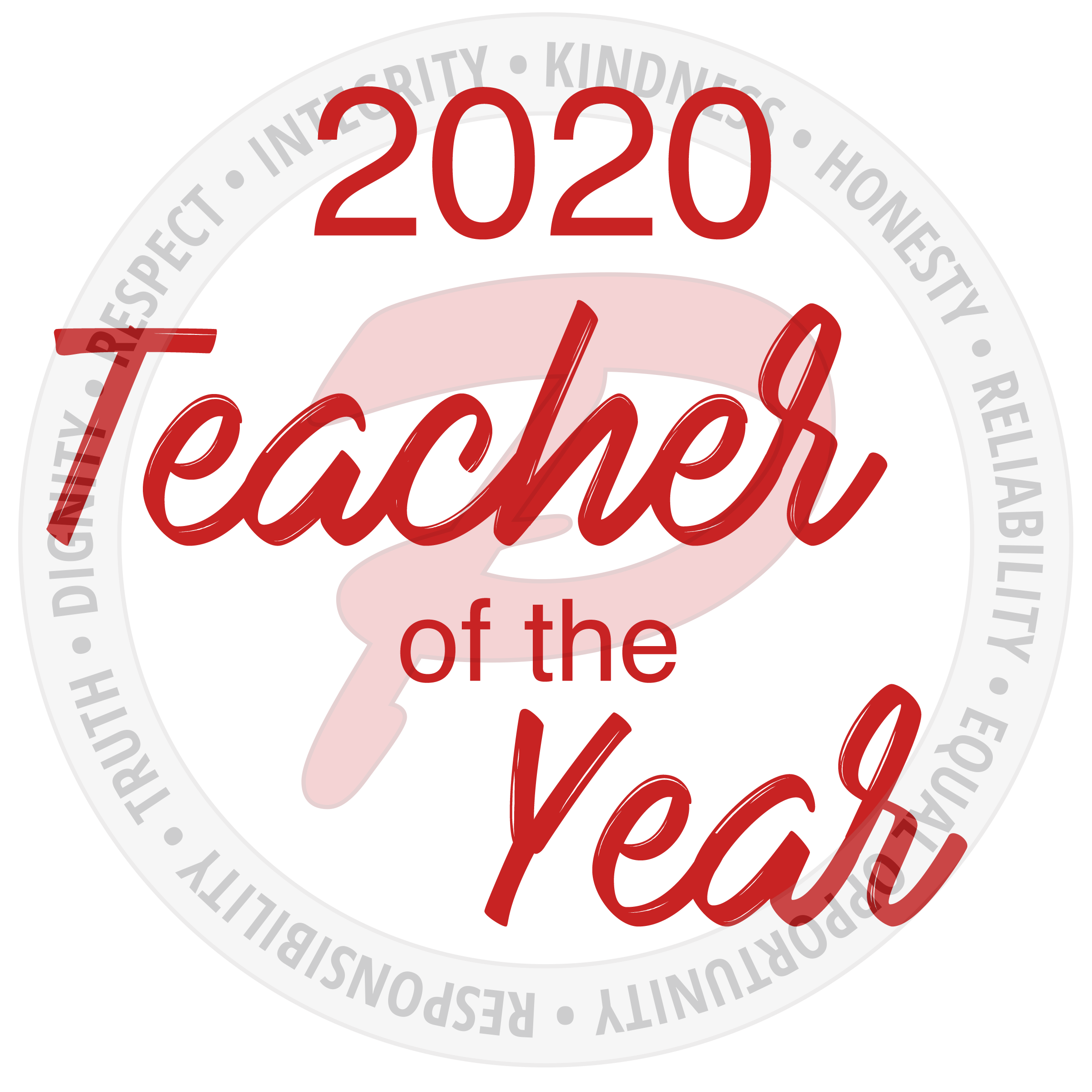 For a teacher, the respect of your students, their parents, and your colleagues is hard to top. For that reason, Plainfield's Teacher-of-the-Year process includes nominations from the public, with the final selection committee made up of school and community stakeholders.
Nominations are now closed for the 2020 Teacher-of-the-Year. Plainfield's 2020 Teacher-of-the-Year will be introduced in May.
PLAINFIELD TEACHERS OF THE YEAR
2019 Ann Mennonno, Clark Creek

2018 Brad DeHoff, PCMS

2017 Michelle Burress, PHS

2016 Jonelle Heaton, PHS

2015 Krissy Sullivan, Brentwood

2014 Susan Ament, PHS

2012 Natalie Boyer, Brentwood

2011 Andrea Birke, PHS

2010 Elizabeth Fisher, PCMS

2009 Judy Reed, Brentwood

2008 Chris Cavanaugh, PHS

2007 Joan Effinger, PCMS

2006 Susan Gabonay, Brentwood

2005 Teri Carpenter, PHS

2004 Larry Castor, PCMS

2003 Mary Winters, Van Buren

2002 Laurie Gatlin, PHS

2001 Jon Arvin, PCMS

2000 Teresa Walters, Van Buren

1999 Ray Saxman, PHS

1998 Martha Jennings, PCMS

1997 Nell Voelker, Van Buren

1996 Carol Kellogg, PHS

1995 Don Dones, PCMS

1994 John Chapin, Van Buren

1993 Jerry Hankins, PHS

1992 Kathy Owen, PCMS

1991 Pat Lilly, Brentwood

1990 Bruce Milburn, PHS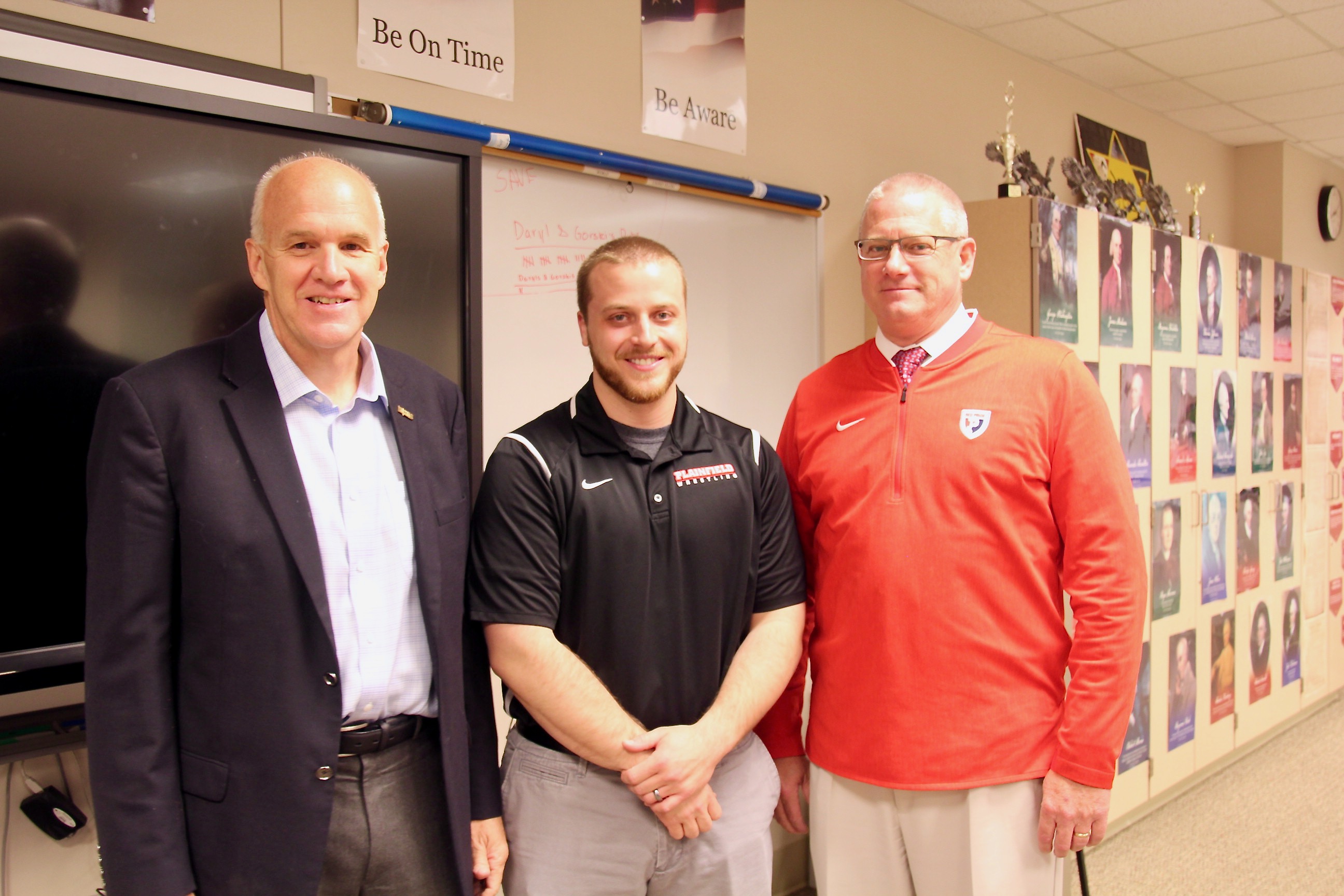 The Plainfield Community School Corporation is pleased to introduce its 2020 Teacher of the Year, Adam Ferguson. Adam teaches CHAP, We the People, Dual Credit U.S. History, and Advanced Placement Government at Plainfield High School (PHS). He has been a PHS teacher for six years, previously teaching for two years at Northwestern High School (Kokomo, IN).
The Ball State University graduate holds a Bachelor of Science in Social Studies Education, a Bachelor of Science in History, and is a Summa Cum Laude graduate of the Ball State Honors College. He recently learned that he has been accepted into the ACP (Advanced College Project) History Program at IU, where he will begin work this July on his Master's Degree in History.
Adam is very engaged in student activities at PHS, serving on several committees and as the sponsor for National Honor Society and the Riley Dance Marathon, which this year broke yet another record while raising more than $23,000 for Riley Hospital.
A committee of administrators, teachers, school board members and parents conducted final interviews of the elementary, middle and high school candidates. "We are thrilled to introduce Adam as the Plainfield Teacher of the Year for 2020," said Plainfield Schools Superintendent Scott Olinger, "and have every confidence that he will represent our students and community well as he advances to the next level."
Congratulations, Adam!