For the month of November, Odysseys looked a little different at The Imagination Lab.
\r\n
We hosted a Focus on First Responders for all grades. Each class that came in had a chance to meet with a First Responder or their support staff. Students also had the opportunity to learn hands-only CPR, how to get help in an emergency, car safety, and grades 2-5 also learned how to stop a bleed.
\r\n
While we hope that our students never have to experience an emergency and utilize the skills we went over, our goal for November was to empower students to be able to help save a life, no matter how big or small they may be. You can't plan an emergency, but you can prepare. Giving students the know-how on what to do and what to expect in different scenarios may make a huge difference in our community.
\r\n
For Hands-Only CPR, students practiced the proper hand position on a small mannequin and how to measure the ideal speed of 100-120 beats per minute (bpm) using "Baby Shark" to keep tempo. This was not an easy task, but the students enjoyed the hands-on experience.
\r\n
\r\n
During our How to Get Help in an Emergency session, students learned what questions to expect from the emergency dispatcher, and what to do if a smartphone is locked or if there is no phone available. We also went through "What if?" scenarios, asking the questions first "Is it an emergency?" before dialing 911.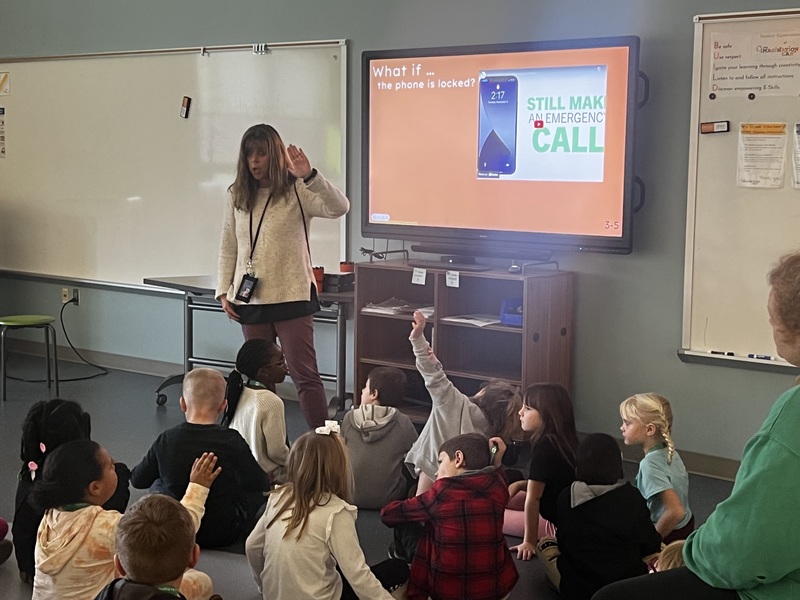 \r\n
Our Car Safety session emphasized the importance of seatbelts and booster seats as well as why the recommendations for a booster seat and not sitting in the front seat are important. The students also learned why a school bus is designed with no seatbelt, using a method called "compartmentalization", similar to the idea behind an egg carton.
\r\n
Our Stop the Bleed session was only for students in grades 2 through 5, using our own simulated materials (PVC pipe and a pool noodle). Students learned how to apply pressure, when you should go to urgent care vs. calling 911, and practiced how to pack a wound for a severe injury.
\r\n
\r\n
We want to throw a huge thanks to the Town of Plainfield for the support this month, as well as to all of our First Responders that spent time with the students.

\r\n
From the Plainfield Police Department: Chief of Police Kyle Prewitt, Lieutenant Gary Tanner, Sergeant Nathan Nolin, Officer Chris Duffer, Officer Joshua Koch, Officer Cody Endicott

From the Plainfield Fire Territory: Fire Chief Brent Anderson, Fire Prevention Officer Wayne Long, Deputy Fire Chief Greg Williams, Division Chief Wade Stevens, Captain Alan Trauner, Captain Kathy Pennington, Lt. Dustin Moffitt, Lt. Michael Hiatt, Lt. Ed McDonald, Lt. Brandon Bailey, Lt. Michael Thompson, Lt. Matt King, Lt. Adam Hurford, Fire Fighters Rochelle Wolfe, Kyle Massey, Wendy Whitaker, William Homan, Tim Wuethrich, Carol Klinger, Samuel Burgess, Daniel Miller, Roger Harris, Mark Peterson, Daniel Woehlecke, CJ Little, Will Hagans, Brandon Richardson, Andrew Carman, Tyler Wilson, Troy Wilson, Dan Foy, Kaleb Buchannan, Kristin French, Jacob Steckler, and Carson McCleery

From the Town of Plainfield: Wellbeing Director Orlando Jordan
\r\n
We'd also like to thank our other sponsors at Hendricks Regional Health and the IU School of Medicine for the additional resources and support.
\r\n
Again, while we hope our students never have to experience a scenario like this, we hope this emphasis in November empowers them to take action and save a life if they do find themselves in an emergency situation. Knowledge is power! #TheMoreYouKnow #QuakersImagine