Kindergarten students learned about artist Alma Thomas, and used tempera paint, sponges and brushes to paint in her style.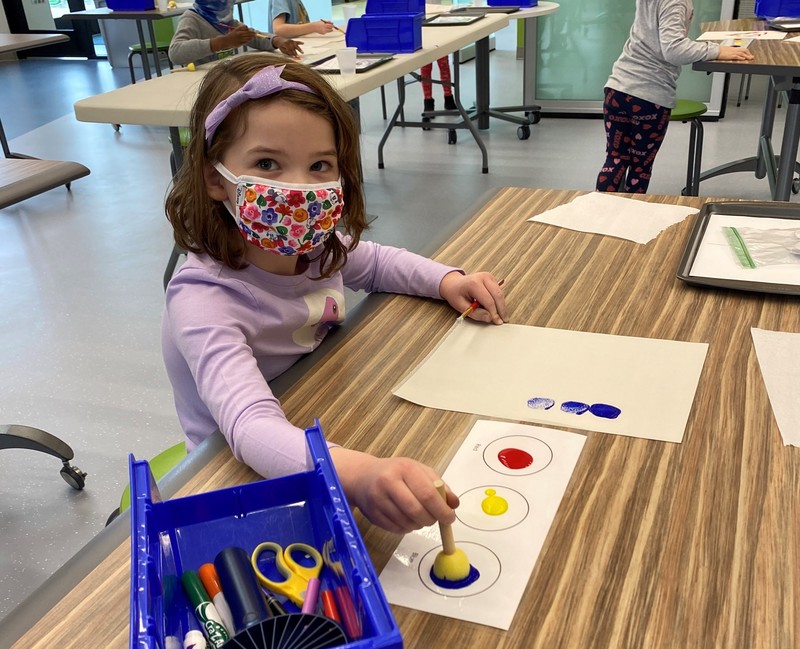 Alma Thomas is best known for the "exuberant," colorful, abstract paintings that she created after her retirement from a 35-year career teaching art at Washington's Shaw Junior High School.
Alma loved painting her garden. She watched changes in the environment around her as inspiration. She worked with radial designs, similar to how the sun radiates heat and light. She is often described as an expressionist painter.
She earned her Bachelors of Science in Fine Arts in 1924 from Howard, becoming the first graduate from the University's Fine Arts program, and also "possibly the first African-American woman" to earn a bachelors degree in art.
In 1972, at the age of 81, Thomas was the first African-American woman to have a solo exhibition at the Whitney Museum of American Art, and later the same year a much larger exhibition was also held at the Corcoran Gallery of Art.

Alma is recognized as a major painter in the 20th century.
"Creative art is for all time and is therefore independent of time. It is of all ages, of every land, and if by this we mean the creative spirit in man which produces a picture or a statue is common to the whole civilized world, independent of age, race and nationality; the statement may stand unchallenged."
-Alma Thomas, 1970
Newsfeed main photo: from Mrs. Keating's class on Super Hero day.
Source: