Construction continues, even a little ahead of schedule!
We have begun finalizing some details for the the August 2018 opening of The Imagination Lab.
All K-5 students will visit 8 times during the school year for 90 minute hands-on learning, called an Odyssey. Each school will visit on the same day each week. Grade level teams will visit together either during a morning or afternoon session.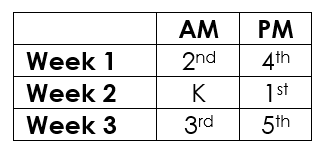 To see a full schedule of days visit Odyssey Schedules on The Imagination Lab webpage.
The PCSC Transportation Department is making arrangements to bus students from Central and Van Buren Elementary Schools. Brentwood students will get a ride during inclement weather but otherwise, along with Clarks Creek students, will walk.