EDIT MAIN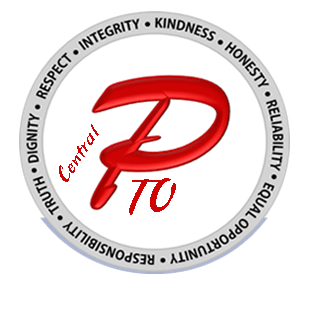 Dear Central Parents,
Welcome to YOUR Central Elementary Parent Teacher Organization (PTO)! We are so excited to start off our new school year. We thought we would take this opportunity to introduce ourselves along with tell you what your PTO is all about. We are a group of parents, just like you, that want to be involved in our child(ren)'s school - it really is that simple. We want to be able to ensure that our kiddos get the best out of their education and we want to support the amazing teachers and staff that allow that to happen. Here are our main objectives:
To ensure that we enhance and foster the teacher/parent relationship
To find ways that, as an organization, we can benefit our school and neighborhood community - a great lesson to have our children learn as well
To provide ways to enhance the educational benefit to the children
So the next question is: How can you help?
We are always in need of volunteers for a variety of our activities. Plus we have a grant process that provides our teachers with the ability to apply to the PTO for funding for their classroom needs. In order to help fund the Teacher Grant Program we rely heavily on our community reward funding. Here are a few of those programs:
Box Tops for Education - we have collection bins in each classroom. As the classroom fills up the bins there are different levels where the whole class will receive rewards for filling up their canisters. We will start each grading period with a whole new opportunity to fill up their canisters to win rewards.
Kroger Community Rewards - If you shop at Kroger please link your Kroger card to Central Elementary by going to the Community Rewards page on their website.
SHOPAROO - Download the app on your smartphone, link it to Central Elementary, scan all your receipts for points and that turns into money for our school!
AmazonSmile - purchasing on Amazon anyways?! Purchase through AmazonSmile will send a percentage of your purchase price to our school!
We will be sending home information regarding reward programs, links, etc that contribute to our school. Plus also link to our Facebook Page (Central Elementary PTO) for a calendar of events and to be updated on the latest information!
Why do we raise money?
In order to fulfill our mission of helping teachers and staff and enhancing our students experiences all while being a part of the community, we have activities that try to meet all of those goals! We have various events throughout the year that provide us with the opportunity to raise money for our school to use for our Classroom Parties, providing funding for classroom rewards and activities, Field Day, Science Day, a beginning of the school year teacher allowance and many more! We will attach a whole year schedule of events on this website under the PTO folder but here are a few of our big activities for first semester:
Science Day, September 1st
Book Fair – September 25th-29th
Grandparents Night - September 28th 5-7PM
Fall Parties - October 31st
Family Fun Night – November 3rd
Santa Shop - December 4th-8th
Other ways to help donate…..
We also have restaurant/activity nights held throughout the year where just by attending or eating at a place you would normally go, our generous community of business owners donate a portion of their sales to our school! We will send out reminders via flyers home, FaceBook & Instagram posts as well as update the school website with a list of events. But here are the first few we have to put in your calendar now!
August 2nd - Dairy Queen 5:30-8:30PM - great treat for second day back at school!
August 18th - Hot Skates 5:30-7:30PM
September 1st - Frigid Frog 2-7PM
Plus don't forget about Central & Red Pride Spirit Wear! Forms will be available on the Central Website under the PTO folder as well as sent home and we will have a link on our FaceBook page as well! First round of orders due August 25th. Second order due November 17th!
Would you like to volunteer?
We always welcome volunteers to assist us with special events, coordinating events, counting box tops and all sorts of other opportunities. Please look for information coming home with your child, check our Facebook page or always feel free to email us at:
PlainfieldCentralElementaryPTO@gmail.com
To stay up to date with the latest information from Central PTO please Like our Facebook page - Central Elementary PTO.
Our first PTO meeting will be August 21st at 7PM in the school's cafeteria.
See list below for all PTO meeting dates.
Sincerely,
Jenn Basham, PTO President
2017-2018 Board Members
Jenn Basham – President
Danielle Bell – President Elect
Jen Nanny – Vice President
Nicole Rongo – Treasurer
Candice Husted – Secretary
Tory Murray – Financial Secretary
Each PTO Board member is assigned to a Grade Level Team Leader in order to foster a connection between the classrooms and the PTO for events/needs, etc. If you have an idea, question or concern that is more grade level focused, please communicate with the appropriate PTO Board member and they will help get an answer for you.
Kindergarten- Danielle Bell (President Elect) danielle@starmarketing.com
1st grade - Nicole Rongo (Treasurer) nicolerongo@yahoo.com
2nd grade - Candice Husted (Secretary) husted_candice_m@lilly.com
3rd grade - Tory Murray (Financial Secretary) tmurray@plainfieldchristian.com
4th grade - Jen Nanny (Vice President) jennifer.nanny@heart.org
5th grade - Jenn Basham (President) thebashamfamily@gmail.com
PTO Meeting Dates
All PTO meeting will be held on the 3rd Monday of each month unless noted otherwise. The meetings will be at 7:00 PM in the cafeteria at Central Elementary.
August 21st
September 18th
October 23rd
November 20th
December – no meeting
January 22nd
February 26th
March 19th
April 16th
May 21st
Stay Up to Date with Central PTO!
Central PTO Newsletter February 2017
---
---