EDIT MAIN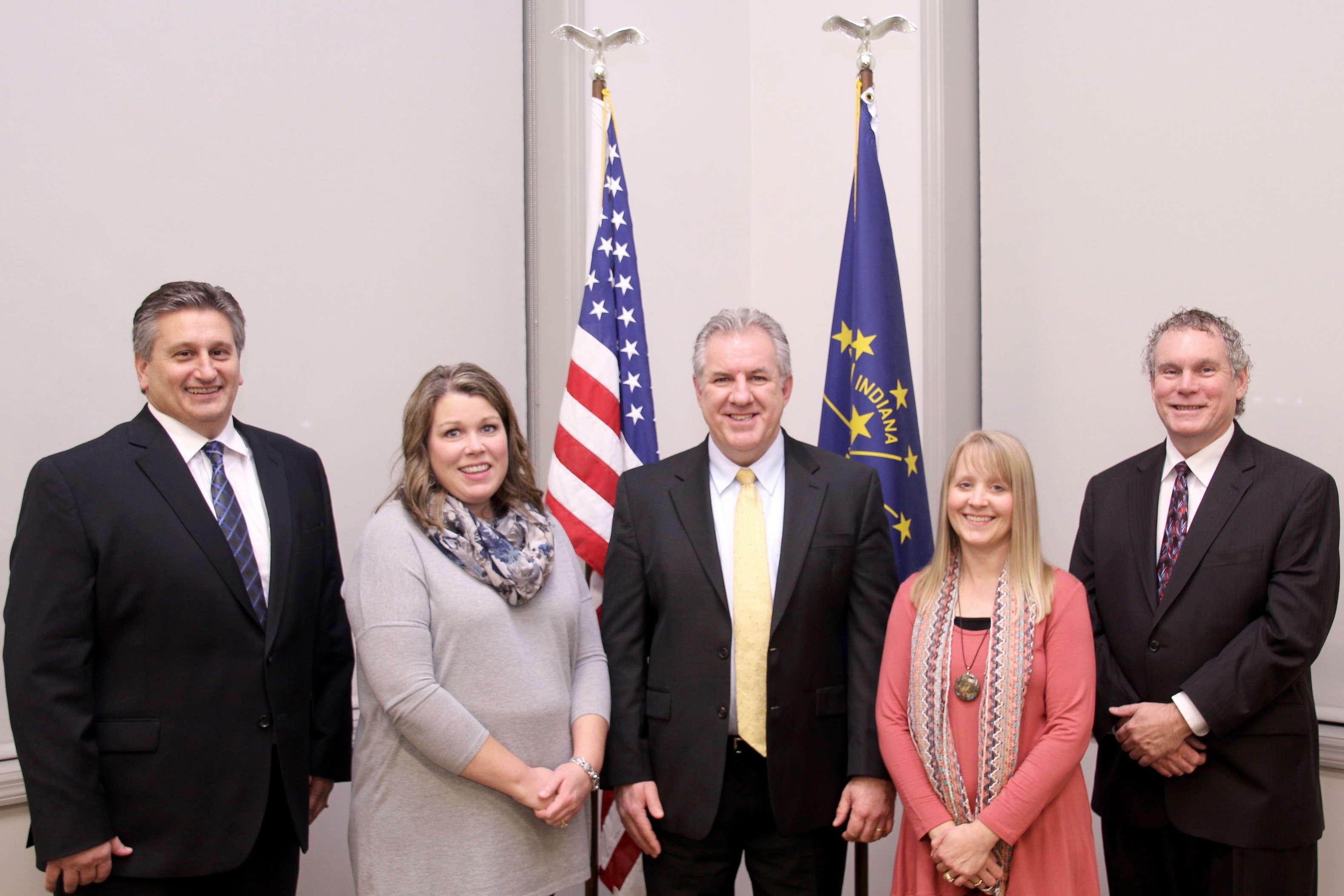 Pictured above: left to right: Barry Blackwell, Parliamentarian; Katie Chamness, 2nd Vice President; Mike Allen, Secretary; Jessica Elston, President; Scott Flood, 1st Vice President.
JESSICA ELSTON, PRESIDENT
Why serve on the board?
I've always enjoyed being involved in our schools, as a parent and member of the community. I've been impressed with the planning and organization I've witnessed; the people who work for our school corporation are so dedicated to our students. I saw serving on the school board as an exciting opportunity to serve our students and community. I couldn't think of a better way to give back to show my support and appreciation.
In your short time on board, what have you observed?
Right now, I'm doing a lot of listening and asking questions! There are so many projects underway, and I'm getting up to speed on them; thankfully everyone has been very patient and willing to explain the logic behind each project. My experience serving on PTOs, and the Boundary Adjustment and Teacher of the Year committees, has allowed me to get to know the people in our schools and at the administration level, and I think that has been a wonderful advantage. I'm really enjoying getting to know more about everything it takes to keep our schools performing at such a high level. It's amazing to learn all of the intricacies required to do everything our students and their teachers do!
Tell us about your family?
My husband Brad and I are the proud parents of four children, three of whom are still students here and one who is attending Manchester University. We moved to Plainfield in 1997, and this is the longest time I've lived in one community. I feel very much at home here, and in fact, we chose Plainfield in large part due to the quality of the schools. We knew we wanted to raise our family here.
If you were selling PCSC, what would you say?
I would hope everyone already knows that in Plainfield, academic excellence speaks for itself. Our students have a long and proven history of academic accomplishments, both while in school here and when they go on to their next steps.
So I think it's important that we talk about the wonderful partnerships that exist between our schools and the community. Kids have so many opportunities to be involved in clubs and activities at school, and many of those lead them into the community to volunteer at that level. I really appreciate that we have a focus on serving the greater community, and in turn, I think it helps our students learn that Plainfield is THEIR community, too. And they are experiencing the model of what it means to be a good citizen.
But none of this would be possible without the deeply-rooted commitment and passion that our teachers and administrators share. At the classroom level, our teachers do an incredible job of knowing their students and finding ways to best meet their unique needs. They go above and beyond so that our children have the opportunity to grow both as individuals as well as students.
It really is an honor for me to serve as a member of the Plainfield Community School Corporation's Board of Trustees. Having the opportunity to support our teachers and staff, our students, and our community is a privilege.
SCOTT FLOOD, 1ST VICE PRESIDENT
Why serve on the board?
I believe that public education is one of America's proudest legacies. Contrary to what you'll read sometimes, the rest of the world looks to us as a model of educating everyone. And I see it as a great equalizer, and I want to be sure our community's schools stay strong.
In your time on board, what have you observed, and/or what has surprised you?
I have continued to be impressed by the dedication of our teachers and our staff, and the fact that they go WELL beyond the expectations of their jobs to serve children and families. Families are a critical piece of the puzzle.
Tell us about your family?
I have three kids, all PHS graduates. If you talk to my kids, you'll hear great things about the education they received at Plainfield, and about the extraordinary teachers who touched their lives. And although they're still fairly young, they recognize that already.
If you were selling PCSC, what would you say?
I firmly believe that we have the best school district in the Midwest, and that we continue to get better with each passing year.
KATIE CHAMNESS, 2ND VICE PRESIDENT
Why serve on the board?
Plainfield Community Schools are unlike any other school system I've ever experienced. Administrators work very hard to deliver the best curriculum for our students. Teachers are committed to doing everything they can to help their students succeed, both in and out of the classroom. It is evident that Plainfield graduates go on to do extraordinary things and that is all because of the administration, faculty, parents and our community. We all work together for the good of each other. I'm humbled to be a part of this board.
When we moved our family here, it was clear, almost immediately, that we had made a wonderful decision. As I began to volunteer in the classroom and become involved with the PTO, I developed a sense of excitement and pride for our community and schools. Many people will attest (and laugh I'm sure) that you can often see 'pep in my step' when I'm on any Plainfield school grounds. Whether this be at my own children's elementary school, a football game, a meeting or a school event ... I hold my head high at what we have accomplished as a school corporation.
Being a member of the Board of Trustees is something that I am very proud of. Having young children in Plainfield Schools, I'm very involved. I filter through our schools weekly. I think it is very beneficial for our parents to be able to make a visual connection with a board member on a regular basis. Being a stay at home mom affords me the ability to be able to do this. I am happy to represent the other board members in this way. I have worked hard to educate myself with regards to the community and how our school system fits into that.
In your time on board, what have you observed, and/or what has surprised you?
Being the newest member on the Board of Trustees, I'm listening a lot and I ask questions on a daily basis. I have already learned so much from my fellow members of the board and have so much respect for each one of them. I've been able to observe the connection our board has with Superintendent Olinger and his Administration. Both teams connect well. We have a great rapport and communicate on a regular basis with each other. No one is ever left in the dark. This is key and a huge part of why we are so successful as a school system.
Tell us about your family?
I graduated in 1997 from Mooresville High School, and am the very proud mother of two daughters, Gabby and Scarlett, who love attending Van Buren Elementary.
I studied Child Development and Family Life at Indiana State University, minoring in Education. So many of my professional decisions have been focused on improving the lives of children and families. I began my career in the classroom as a teacher and then switched career paths and was in supervision and management with the State of Indiana and Social Services. Both of these experiences have afforded me the opportunity to familiarize myself with children, students and families.
If you were selling PCSC, what would you say?
Come to Plainfield Schools...where we rank in the top 8% of all schools in the State of Indiana, and where your child will receive one of the best educations in the Midwest with nationally ranked educators and staff. We are well known for providing an outstanding education in a state of the art environment. What parent would want to pass up that opportunity?
MICHAEL ALLEN, Secretary
Why serve on the board?
My wife and I have lived in Plainfield since we were married in 1983. It is our home. Plainfield schools have served us and our children well. I want to continue the success our schools have achieved and work with other Board members as well as the corporation's administrators and teachers to improve the quality of education for my children, my grandchildren and the Plainfield community.
In my view, having diverse skill sets and perspectives on the School Board is important. For my part, I believe my background as an attorney is helpful to the Board as it deals with legal issues the Corporation faces from time to time. As an adjunct faculty member at Indiana Wesleyan University, I teach business law, ethics and leadership courses at the graduate and undergraduate level. I find that teaching experience and regular interaction with college students useful as I think about what the Plainfield schools can do to better prepare students who plan to pursue higher education.
Since joining the board, what have you observed?
A couple of things have really stood out to me. One, we have a lot of new folks in leadership positions, but they are an excellent team. I've enjoyed getting to know the building principals and assistants, and appreciate the great job Scott has done in all areas of succession planning. The other thing that's struck me is the passion of the school corporation's employees, and, in particular, our teachers. The schools in Plainfield are filled with people who are extremely passionate about education and doing their best for students.
Tell us about your family?
As I mentioned earlier, my wife Sandra and I have been married for 31 years. We have 12 children. Four are graduates of Plainfield High School. We have two children in high school now, four in middle school and two at Van Buren. We are an international family. Our oldest daughter was born in Indianapolis, but our oldest son was born in Colombia, South America, and the rest of our kids were born in China.
If you were selling PCSC, what would you say?
The past performance of our school corporation should inform parents considering Plainfield that we have a long history of providing high-quality education. And we have an extremely passionate group of teachers and administrators that will serve their children well. The achievements of our students, not just on standardized testing, but also in competitions like "We the People" and academic super bowls demonstrate that. Additionally, I think the Plainfield Community School Corporation's commitment to teaching and modeling good community values sets us apart. Our principals and teachers get very creative with this aspect of education and work hard to prepare our students to be good citizens. I would say that while there are many great school corporations in central Indiana, we can compete with any of them; I would put Plainfield at the top of any list.
Barry Blackwell, parliamentarian
Why serve on the board?
I worked with Bart Beal before he retired from Duke Energy; I watched the way he was an active volunteer in the community and for the schools. Bart always encouraged me to look for ways to support our schools. I've coached my kids in the past, and decided it was time to look for the next step, and this was it.
In your time on board, what have you observed?
When I came on the board in Fall 2013, and I immediately recognized a strong collaboration between the board and our administrative team. We have strong administrators, and I'm impressed by the way they work together and communicate. It's clearly a strong team effort, where they respect one another and understand one another's roles. I also think it's important that we work in such a transparent fashion, which makes for a seamless process.As a parent, I had no idea the amount of work that's done by the administrative team. This is certainly not a 7-4 job - our teachers and administrators put in LONG hours. I've observed the deepest levels of dedication, and haven't met anyone who isn't so proud of what PCSC has accomplished and where we stand as a top-tier school in Indiana. We have wonderful pride in our schools, which I find very impressive; it makes you want to be a part of this team.It rubs off on everyone.
Tell us about your family?
My wife and I have three children and one granddaughter. I've worked at Duke nearly 30 years, now doing a lot of planning and strategy work for the Duke Energy Indiana CEO. My background is finance and accounting, and I grew up in Mooresville.
If you were selling PCSC, what would you say?
It's a wonderful community with one of the best school systems around, and from top to bottom, it's a top-notch organization. Plainfield is a great place to live and part of that reason is that the schools are so great.