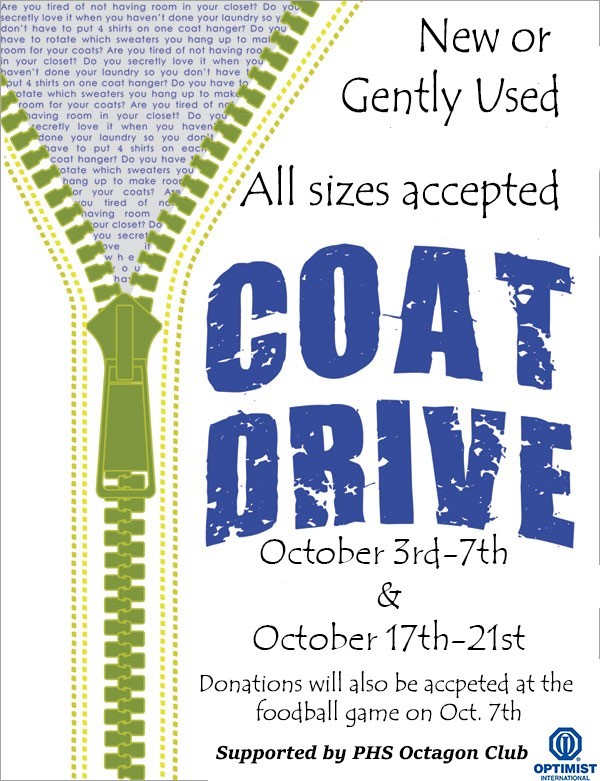 ​Together we can do great things!
Paris Camden
Thursday, September 29, 2016
Together we can do great things! – Mother Teresa
The Plainfield High School Octagon Club and Junior Optimist International will combine efforts with all schools in our Plainfield Community School Corporation to collect coats for distribution to those in need in our school district as well as throughout Hendricks County. Our active Octagon Club strives to duplicate last year's successful efforts by asking ALL Plainfield families in our community to please donate any gently used warm winter coats.
Collection boxes will be placed inside the lobbies of Central, Brentwood, Clark's Creek, Van Buren, PCMS and PHS Oct 3- 21st.
Octagon President, Jade Stone, hopes families will take some time during fall break to take inventory of the coats they have in their closets and consider donating. Students will also be collecting at the entrance of last PHS home football game, October 7th. Those wanting to donate new gloves and hats are welcome to do so. While one coat may not seem to make a difference, it can provide many days of warmth to someone in our community. Coats will be distributed on October 29th in a coat mobile driving throughout the district. Those left over will be donated that same day to Bundle Up Hendricks County at the fairgrounds in Danville.
Together we can do great things… keep the cold warm this winter!